Wow with Unique Corporate Gifts &
Creative Promotional Products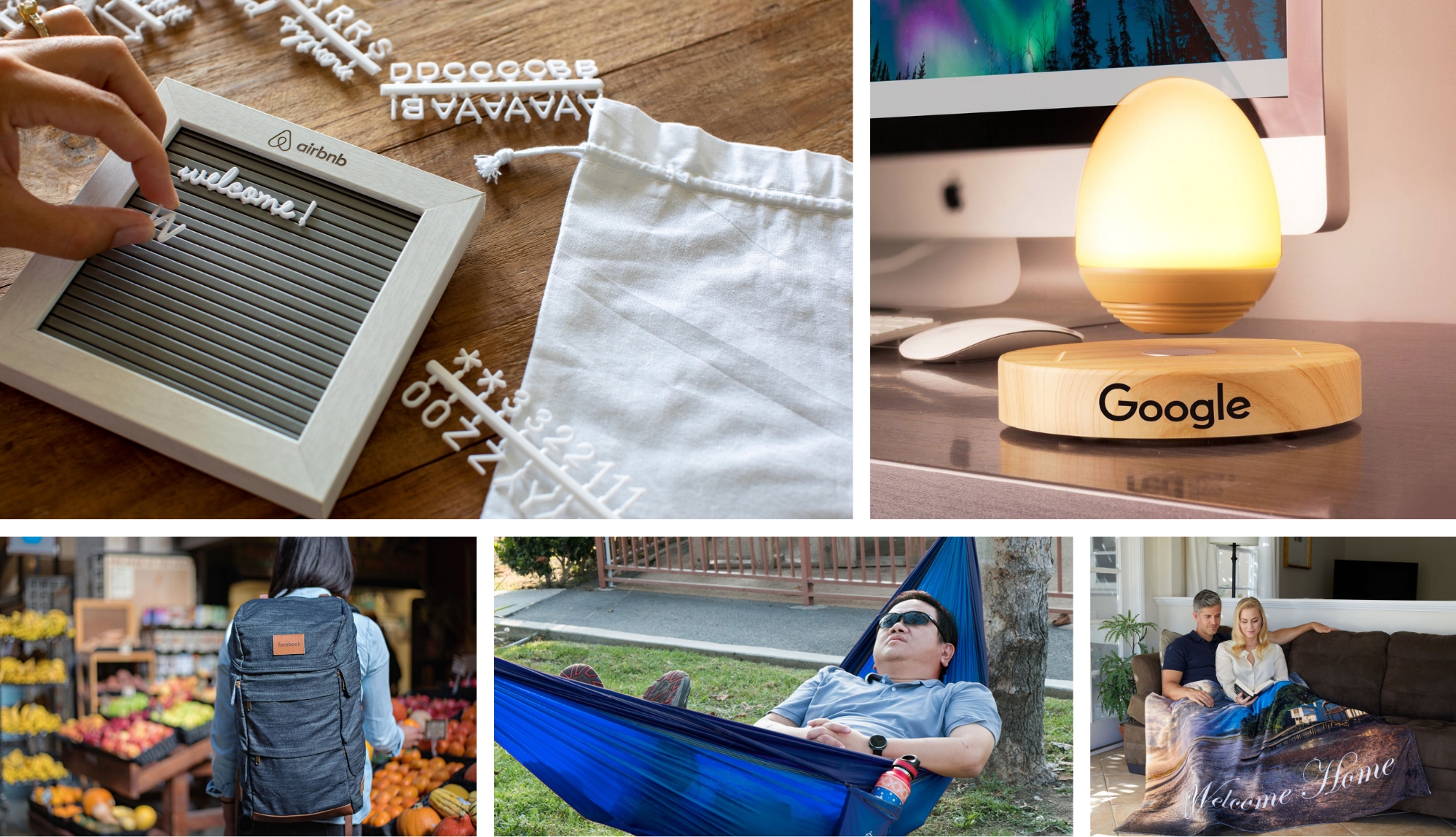 published: May 13, 2022
Unique Promotional Products
There is a time and place for basic promotional pens, t-shirts, and stress balls. After all, these are simple items that everyone needs, but to stand out with classic giveaways, you need to depend on an incredible custom design or clever overall marketing strategy. To gain real traction and awareness for your brand at marketing events, in direct mail campaigns, or at your place of business, its good policy to offer company swag that is instantly memorable.
For example, the 16 oz Stojo Collapsible Cup is an item that everyone can use. Public water sources are now built to be used with refillable bottles. A reusable collapsible silicone cup is a clever green gift that everyone can make use of, and it is small enough to fit in a purse, backpack, or fanny pack. Likewise, the Juicebox 4400 mAh Powerbank will give recipients the ability to charge their phone or other smart devices while on the go. Stamp your logo on this high-tech wonder and get ready to be indispensable.
The Air Plant is perfect for people who love greenery but tend to kill plants. So, almost everybody. Get inspired with a few more of our most unique promotional items: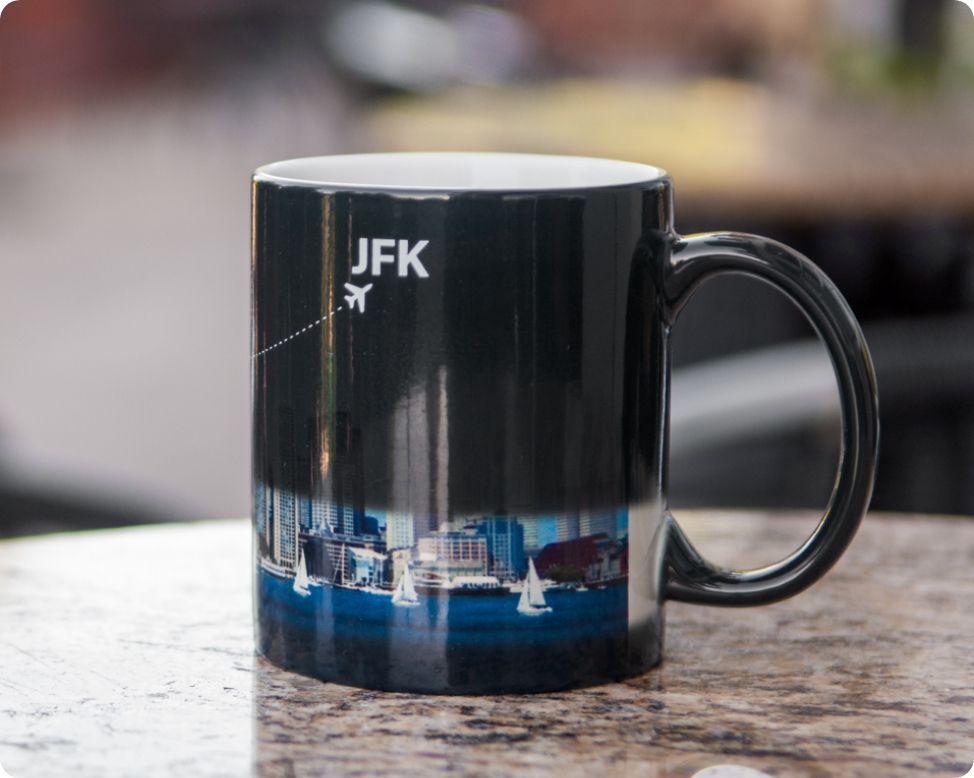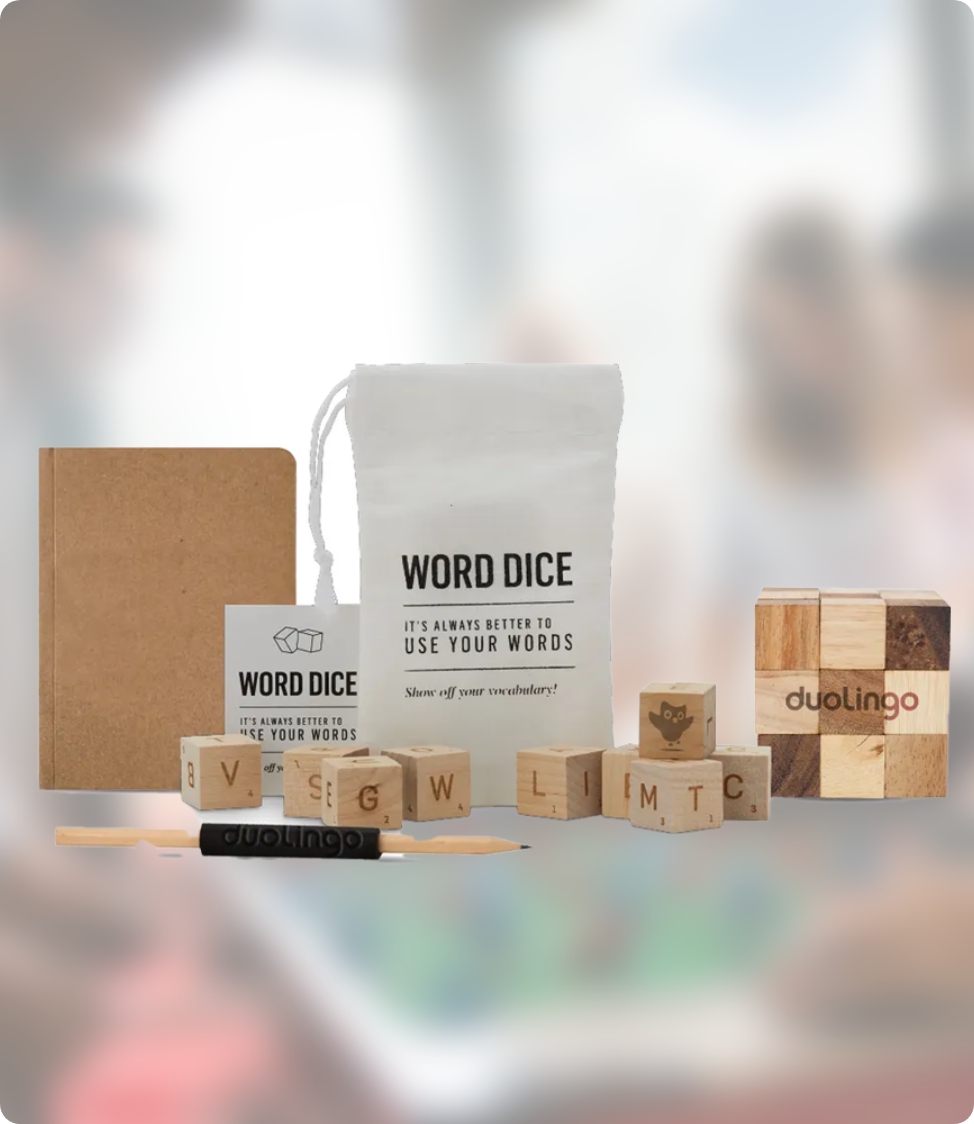 Creative Employee Appreciation Gifts
There are many occasions where you'll want to reward employees with a small token of your appreciation for their hard work, awesome ideas, and loyalty to the company. Giving them a branded calendar, pen, or other item for use during worktime is practical and even thoughtful but may fall short of delight. It's the fun employee appreciation gift ideas that get your staff to look up from their screens and smile for a minute, and it's in those moments that game-changing innovation occurs.
If some of your team is working remotely, make even more of an effort to provide them with creative employee gifts to be enjoyed during time off, to help maintain a healthy division between work time and down time. For example, give them a game they don't already have like a customized Adder Word Dice Game that they can play with their family.
It is also a good idea to read the room. What is your staff like, and what do they like to do? Match unique employee appreciation gifts with your team's most common interests. If they like camping, give them the Extendable 34" Roasting Sticks with Carrying Case. If they prefer the beach, a quick-drying Clearwater Sand Repellent Blanket might be a better option.
Need ideas for Employee Appreciation Day? How about the best work from home staff gift ever? Drumroll please… The Instacake Appreciation Cake in a Card is a greeting card that comes with everything needed to bake a mini celebration cake tucked inside it. Yes, it's a cake that you can mail. You're welcome. Looking for even more razzmatazz? Add your company logo to one of these creative corporate gift ideas:
Unique Client Gift Ideas
Giving your client a nice gift to commemorate their first order or reward them for years of loyal patronage is generally good practice, but with more unique corporate gifts you can make a lasting impression on them and their colleagues. Like those for employees, creative client gifts should be useful and fun, and not just for work hours.
The unique customized client gifts that have a dual purpose, for both business and leisure, are ideal. The Propel Fan/Wireless Speaker will not only play your favorite music, but it will also keep you cool with its built in fan. Your customers will use it frequently, and each time they take it out others will be exposed to your innovative brand.
Making a lasting impression on both your clients and their peers is easy when you choose something forward thinking like the Rocketbook Everlast Executive reusable notebook. This customized connected reusable notebook will make notetaking easier for all, while showing corporate responsibility through reducing waste.
Or, spoil your business partners with these unique client gifts: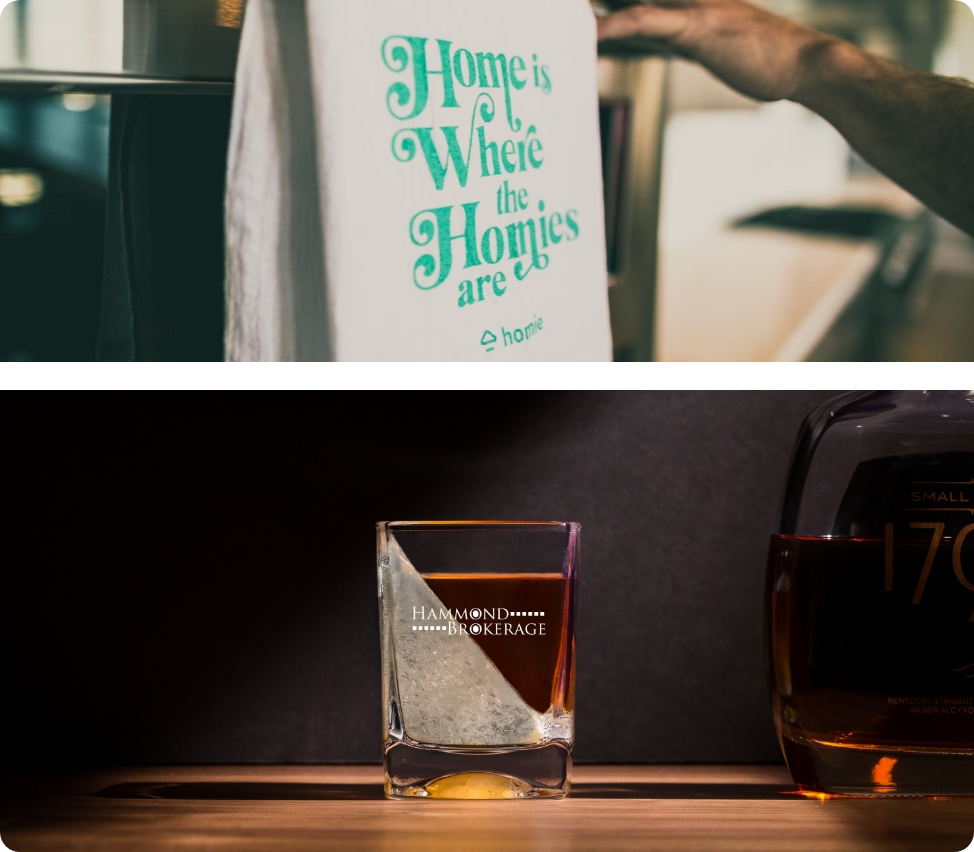 Unique High End Corporate Gifts
All your business associates need a pick me up from time to time. Giving them high-end unique corporate gifts for employees and clients that are truly useful will surprise and delight them, causing them to tell everyone they know. That means brand awareness, especially when you stamp the gift with your logo.
With most employees working at least partially in remote locations, corporate gifts that make being indoors in the wintertime more cheerful are having a moment. The Happy Daylight Desk Lamp can shed extra light on their work while keeping the winter shadows at bay, while the Egg Drop™ Speaker creates a positive atmosphere with superior sound.
If your clients are avid outdoorsmen, or if you have employees that work in the elements during the winter months, a Shefford Heat Panel Vest sporting your logo will keep them warm with panels heated through a power bank (not included).
It's important to get gifts that make sense for the recipient, but when you really want to let your VIP employees or customers know that you appreciate them give them one of these customized high-end corporate gifts:
Unique Corporate Gift Baskets & Gift Sets
The old-fashioned candy-gram, fruit baskets, and floral arrangements that once dominated corporate gifts for clients are now passe. If you want to really make recipients feel valued, give them unique gift sets with a special theme.
You might say that gourmet food gifts are also overdone, but all that is really needed is a creative refresh of the old idea. Instead of sending a basket of muffins or an array of cake pops, give them an edible gift with a twist. The Batch & Bodega Scoops & Sprinkles kit comes with everything you need to enjoy ice cream, in a decorative box that plays traditional ice-cream-truck music!
Another great idea for a corporate gift package is the Take 5 & Revive Kit, which includes a sound machine and satin eye mask so that the recipient can relax anywhere at any time for just five minutes of rejuvenation. This kit will last for years, and it will be a welcome gift for corporate travelers. Dig into a few more of our favorite unique corporate gifts for clients:
Creative Holiday Gift Ideas for Clients & Employees
Tradition dictates that you should send employees and clients holiday gifts, but the more inclusive attitudes adopted in recent years have companies realizing that not everyone celebrates the same holidays. An easy way to create inclusive festivities is to customize the 20 oz Basecamp® Tundra Bottle – Holiday Word Cloud Bottle, which comes decorated with your logo and "Happy Holidays" in multiple languages.
Another approach is to give your clients and employees items they can use throughout the winter. The cozy and visually striking Foto Vision™ Plush Throw Banket can be printed from edge to edge with the design, logo, or phrase of your choice, making it both practical and memorable.
Get merry with these innovative business gift ideas for the holidays:
Unique Giveaway Ideas for Tradeshows & Events
Tradeshows, expos, conventions, and other corporate events are coming back. Whether your event is in-person, virtual, or hybrid, you need to be ready to aggressively promote your brand. Pens, notebooks, magnets, and other common branded items are going to be at nearly every booth. Although the practical nature of these items cannot be overlooked, you should make your booth stand out by offering creative promotional products that are slightly different, unique, and memorable.
You don't have to spend a lot of money on your promotional items, even if you are trying to be more unique than your booth neighbors. Ripstop Scrunchies are retro accessory that's too fun to pass up, and they won't blow your marketing budget. Ultra-affordable Sun Magic Color Changing Sunglasses change color with the sun's rays.
Cloud Putty is a unique gift that is actually very useful. Experts have found that having something to fidget with can improve attention and retention, and cloud putty (and other fidgets) are creative marketing giveaways that will be welcome by conference-goers faced with a long day of seminars and workshops.
Get ready to wow at your next exhibition with these unique custom swag ideas: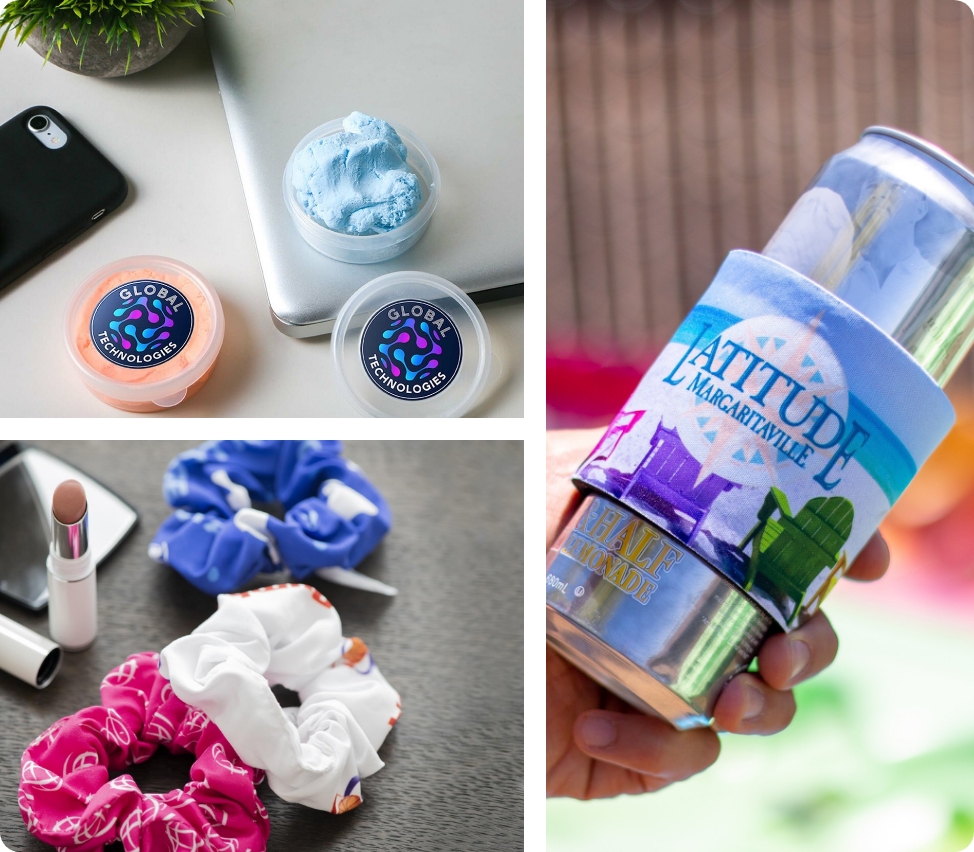 Get Creative – The Sky is the Limit
Of course, you know your clients and employees best, and you might already have an idea of what you would like to give them. If you have ideas for unique corporate gifts or cool promotional items that you don't see on our website, please reach out to one of our sales representatives. We can source everything from waffle makers to paddleboards to create one-of-a-kind unusual promo items for your next campaign!