Work Anniversary Gifts – Winning Ideas
by Employee Service Year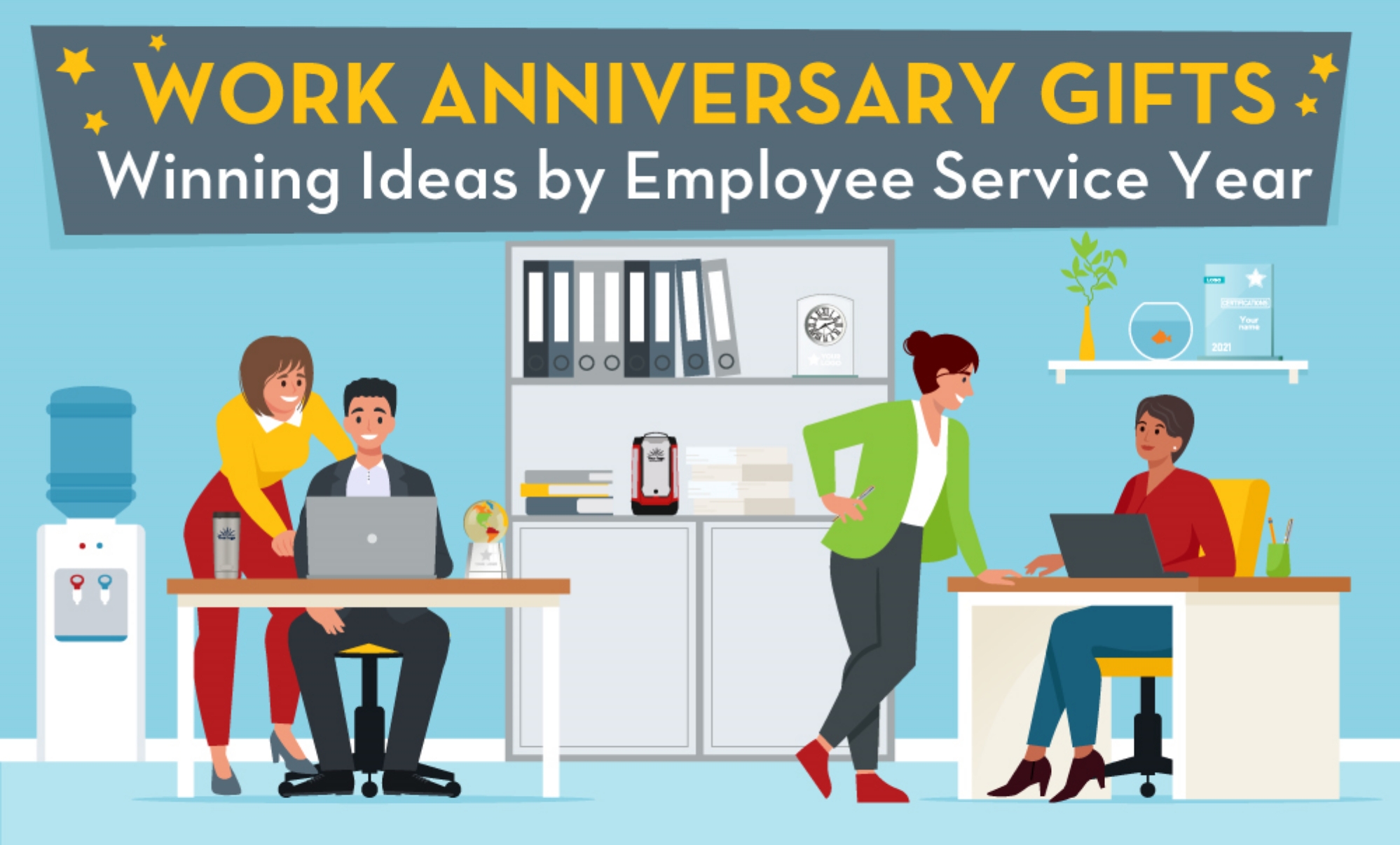 published: March 28, 2022
With a majority of workers setting their eyes on a job change in the next year, companies are seeking ways to keep their talent long term, and that means incorporating unique ideas to increase engagement, show appreciation and build morale. One of the best ways to let employees know they are valued by the company is with service anniversary gifts that recognize their success and commitment for the long haul.
Though every business is different, many strategies are effective when it comes to making employees feel like they aren't just another cog in the machine. For example, at Geiger, a point is made to recognize the hard work our team puts in with a yearly luncheon hosted by the CEO to honor everyone with a service anniversary. On top of that, emails to recognize staff achieving milestones are sent out, and company address speeches also include these achievements to ensure we shine a light on anniversaries. Each department also takes time to celebrate individual work anniversaries as they come up throughout the year.
A little recognition goes a long way when it comes to retaining and engaging staff, and so do unique employee anniversary gifts that show appreciation. If you customize and buy employee service award gifts in bulk, you can make sure you always have gifts on hand when an anniversary comes up.
Check out our top employee anniversary gifts by year to get started:
1 Year Work Anniversary Gifts That Encourage Engagement
The first year of starting a job is often the toughest, as employees not only have to navigate a fresh work environment but might be adjusting to life in a new city. Let them know they aren't on the journey alone with helpful work anniversary gift ideas for employees that will keep them engaged and excited for the opportunity. Decorate their desk with a Wooden Planter Block or help them relieve stress with a 16 oz Relaxation Mug, and employees will rave about their new job.
5 Year Work Anniversary Gifts to Inspire
With five years under their belt, staff members have become fully engrained in the company culture, are taking on new responsibilities and possibly even moving up the ranks. Make sure their efforts are rewarded by gifting them a Classic Leather Phone Case packaged in a white gift box or a BIC® Worthington® Chrome Twist-Style Pen that won't leave their side. These inspiring company anniversary gifts are a great reminder of how much the company values their work.
10 Year Work Anniversary Gifts Sure to Impress
When a staff member has been with you for 10 years, your company is doing something right, but so are they. Don't overlook these familiar faces because their commitment is what keeps the company running successfully. Impress them with the 18 oz Thermos™ Guardian Stainless Steel Tumbler featuring vacuum-insulation technology, the Wireless Charging Mousepad with Phone Stand designed with your logo or any of our other business anniversary gift ideas:
15 Year Work Anniversary Gifts to Recognize Hard Work
Any employee celebrating their 15th anniversary has made significant contributions to your company, and those contributions deserve the same level of recognition. Ensure they feel like their efforts are appreciated with quality work anniversary ideas. From the Bottom Drawer Bamboo Cutting Board to the Napa Stemless Wine Tumbler Set, here are some of the best corporate anniversary gifts to validate the effort they put in:
20 Year Work Anniversary Gifts to Show Appreciation
If an employee is celebrating their 20th anniversary, they probably know everyone in the building by name and might even be in a leadership position by now. Show them they are part of the family with unique 20 years of service gift ideas that will be cherished like the Executive Wine Collectors Set featuring a cherry polished wooden case for an eye-catching appearance or the Photo Frame Treat Box with a picture of the entire team.
25 Year Work Anniversary Gifts to Honor Commitment
Any 25th anniversary is a special occasion, and it's important to honor this career milestone with 25 year work anniversary gift ideas that recognize commitment. Do just that by choosing extra special work anniversary gifts for employees like the Fusion 6000 mAh Power Bank and Wireless Speaker that shows how much of a powerhouse they've been for your company.
30 Year Work Anniversary Gifts That Leave an Impact
Employees are getting close to retirement by year 30, and you want to make sure that every moment they spend with the company is a positive reminder of their time there. With the Howard Miller Poseidon Captain's Clock, employees will be sure to soak in every second, or search our other employee anniversary gift ideas to leave an impact:
40 Year Work Anniversary Gifts to Say "Thank You"
To hit a 40 year anniversary is something to truly behold. Most likely, that staff member has only known one company throughout their professional career, and that's true dedication. Whether they are coming to the end of their career or still have years left to give, say "Thank You" with high-end company anniversary gifts for employees. The Mova Globe imprinted with a personal message is sure to leave them smiling, but any of these corporate anniversary gifts are perfect for showing appreciation:
Perpetual Awards to Recognize Achievements
A great way to celebrate employee service achievements is with perpetual plaques. These employee service award gifts are perfect for any anniversary milestone because they allow you to express your sentiments and include magnetic add-ons for each achievement over time.