What is RPET? How Plastic Bottles
Recycle into Eco-Friendly Items

published: June 21, 2022
Recycled PET or RPET: What is it, how is it made, what makes it an eco-friendly material, and what can be made with it?
Recycling and products made from recycled materials have been around since ancient times. From patriots "recycling" a statue of King George III into bullets to be used in the Revolutionary War to a vital part of conservation efforts during the Great Depression, it's been part of our country's history. However, when we think of recycling today, we usually think of the big plastic bins where we toss glass, aluminum, paper, and plastic containers. New recycling methods and materials made from recycled items have exploded in our environmentally conscious modern world.
Modern recycling technology is as much about preserving resources as it is about preserving the health of our planet. The rush to protect and maintain the Earth has produced many innovations in sustainable manufacturing of the items we use every day, and it can be hard to keep up. But for companies and organizations dedicated to going green, it is necessary to try. Some kinds of recycling are more sustainable than others, and as a decision maker for your organization, you need the facts to make decisions that you are comfortable with.
This article will lay out the process of creating rPET so that you can evaluate where it may figure into your sustainability goals. For businesses, rPET can be a greener solution to breakroom and office supplies. Eco-friendly products made from rPET textiles also make responsible company swag, corporate gifts, Earth Day gifts, and promotional items. Along with other solutions like renewable energy and resources and clean manufacturing processes, rPET can be part of a comprehensive sustainable vision. Below, find out what rPET is and what it can do for you.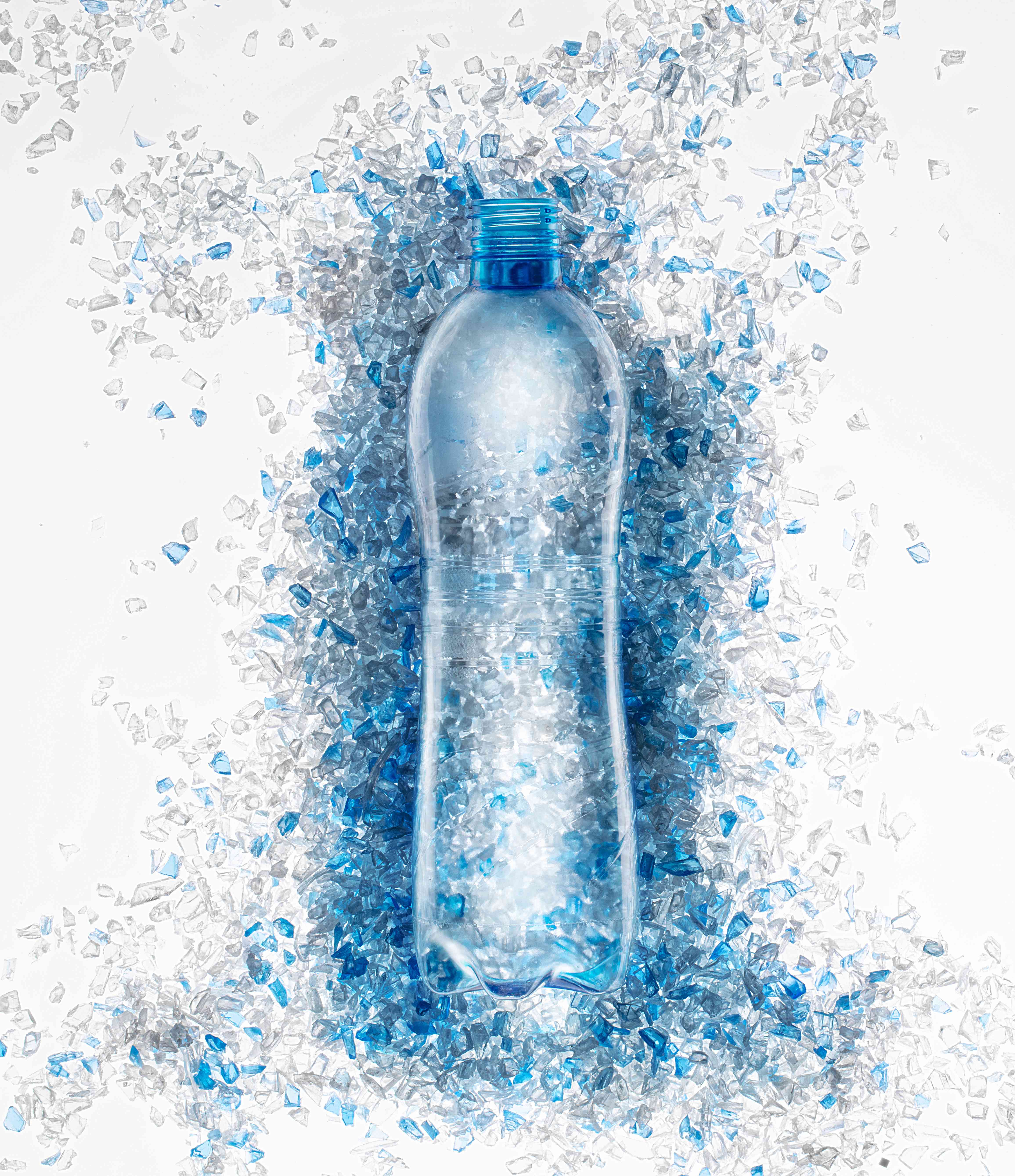 The simple definition of rPET is recycled PET, where the "r" stands for "recycled". PET is the abbreviation for Polyethylene terephthalate plastic, which is a commonly used plastic that's found in many food, drink, and other consumer-product containers. More than two billion pounds of used PET plastics are recovered in the United States and Canada on an annual basis.
rPET is a vastly popular resin that is used to create reusable hard good as well as polyester rPET fabric, which can in turn be made into a wide variety of clothing, bags, and other textile-based items. Equivalent in quality to virgin (non-recycled) polyester,rPET polyester reduces demand for new material, use of natural resources, and the amount of plastic sent to landfills each year.
There's no doubt that plastic products and packaging are a huge part of modern society today. Hardly a minute goes by when we're not interacting with something plastic, whether that be food packaging, a household item, or our clothing. While plastic has made life easier, more sanitary, and very convenient, there is a long-term price to pay.
Many items made with PET, such as plastic water bottles, are meant for a single use. Their disposal leads to pileups in landfills as well as millions of tons of plastic in the ocean. According to the Container Recycling Institute, more than 60 million plastic water bottles are thrown away each day in the United States alone. And a 2016 report by Eunomia said 12 million ton of plastic are poured into the ocean every year.
In addition, virgin PET is made of fossil fuels, which means every plastic item made with new material slowly depletes the earth's resources while disrupting natural environments.
One way to combat these long-term problems is to recycle PET. What happens to recycled plastic bottles when they arrive at the processing plant is that they are cleaned, shredded into pellets, and spun into polyester fiber, which can then be made into new eco-friendly products.
Yes. The process of recycling PET is energy efficient, safe, and effectively uses a huge existing supply of PET products that would otherwise be thrown away. According to a 2017 study by the Swiss Federal Office for the Environment that compared the manufacturing of recycled PET vs virgin PET, rPET production requires 59 percent less energy compared with producing new polyester and can reduce carbon emissions by 32 percent.
Like virgin PET, rPET products like reusable bottles are safe for food and beverage use. rPET recycled polyester, the most common resulting product from the recycling process, is also safe for human wear.
What is made from recycled plastic water bottles as far as textiles is polyester thread, which can be woven into a wide variety of fabrics. rPET polyester sheets can be used to create high-end athletic apparel, nylon or canvas bags, and even soft, cozy blankets. In addition to fabrics, plastic water bottles and other PET plastic items can be recycled into hard plastic material, which can then be molded into reusable water bottles, pens, sunglasses and more. For examples of the best and most creative products made with recycled plastic, jump to the rPET products section at the end of this article.
Products made from rPET are only slightly more expensive than those made from virgin PET. That's because the nature of PET plastic makes it easy to clean, melt, pelletize and mold into something brand new. It's really a bargain in terms of protecting the planet for future generations.
The Process of Recycling Plastic Bottles Into New Items
Have you ever asked yourself "What happens to plastic water bottles when they are recycled?" or wondered how shirts are made from plastic bottles? Many of us find it mind-boggling to think that recycled plastic can be turned into backpacks, totes, and clothing. Those colorful plastic containers you bring to the recycling bin every month don't look much like the soft fabric of a T-shirt or the sturdy canvas of a tote bag.
However, the reality is that millions of plastic bottles take on a new life every day. The process of rPET recycling is fascinating, and once you understand how it works, you may be more interested in spending a few extra dollars on items made from RPET. After all, when you choose to buy products made from recycled bottles, you're supporting an industry that's designed to take better care of our world's resources for future generations.
If you are skeptical that recycling or purchasing recycled products can really make a difference, it may be helpful to learn more about the actual process of rPET plastic recycling. Once you can easily visualize the process, you may feel more comfortable about choosing these products. When you see how many bottles are rescued from a landfill every time you purchase an rPET product, you'll be encouraged to make more eco-conscious choices every time you check out.
What Happens to Bottles When They Are Recycled
The process of recycling plastic bottles can include recycling them into clothing fibers or into hard goods. Here's a quick look at rPET production from bottle to new item from one of our promotional product and corporate gift suppliers, PCNA: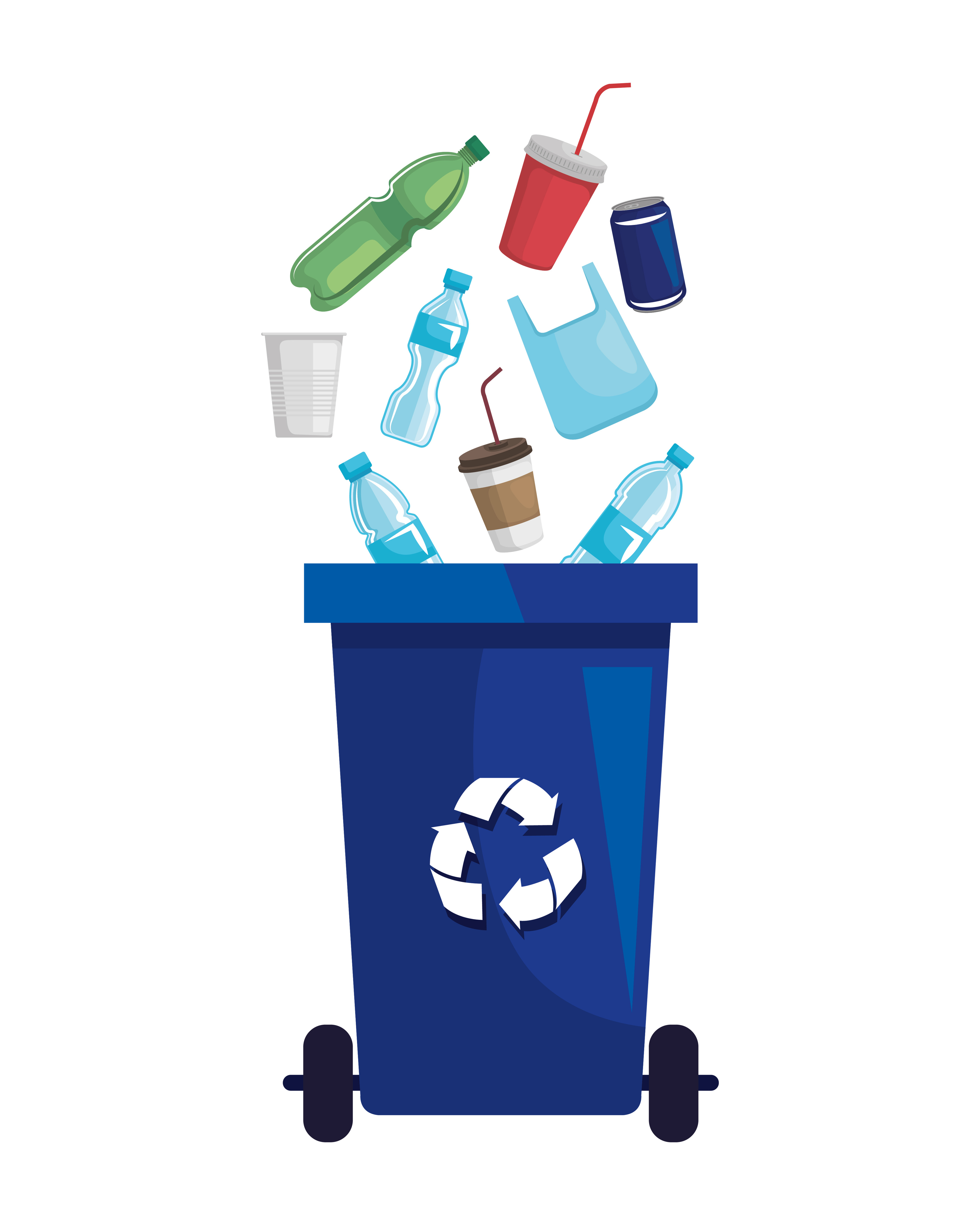 rPET items from PCNA also trigger a donation to 1% for the Planet, so you can double up on your do-gooding.
PET plastic is marked with a recycling #1 and can be turned into an endless variety of items once the recycling center is done with them. This video lists the plastic bottle recycling process and shows a few of these items.
What happens to a recycled plastic bottle after you throw it in the recycling bin? Here's the step-by-step with real-life photos: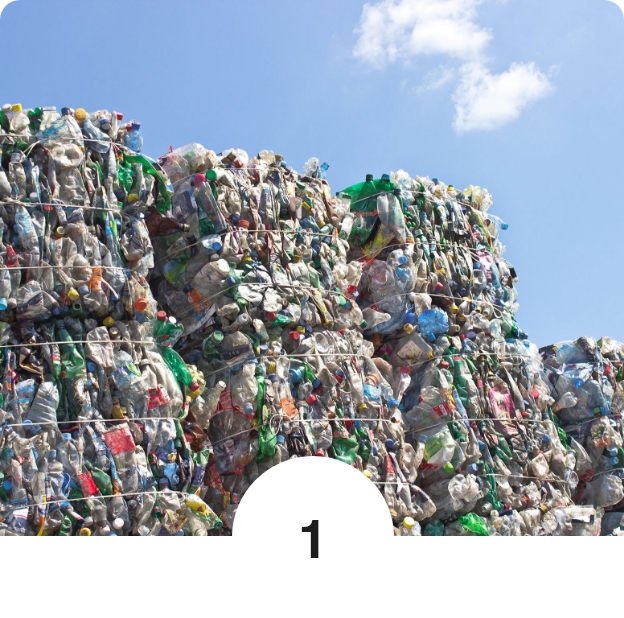 Plastic Bottles Are Gathered
Single use plastic bottles leave their holding areas and are transported by truck to a recycling plant where the process of recycling plastic bottles takes place.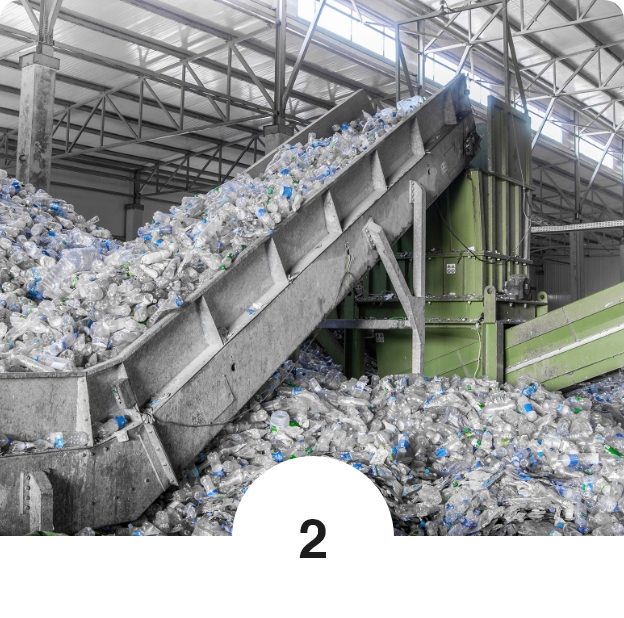 Plastic is Cleaned & Sorted
To make things easier on recycling center employees and give your items a better chance of making it through the entire recycling process, rinse your bottles and jars out before you recycle them.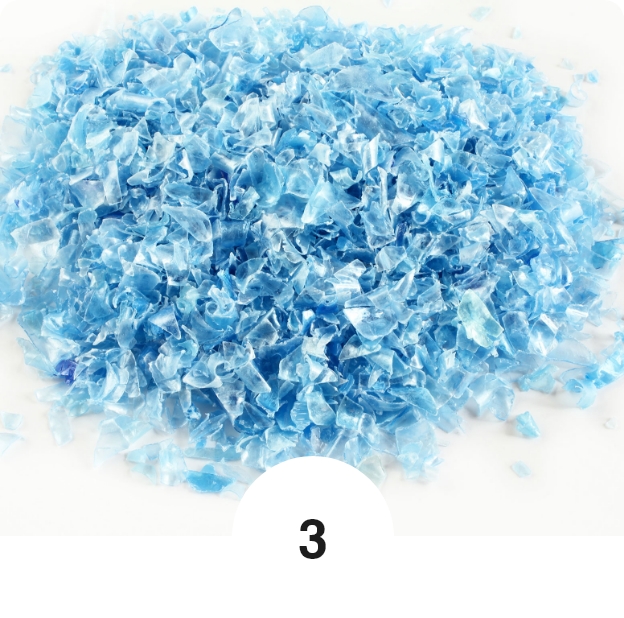 Bottles & Containers are Shredded & Ground into Pellets
Basically, the material is broken down as much as possible.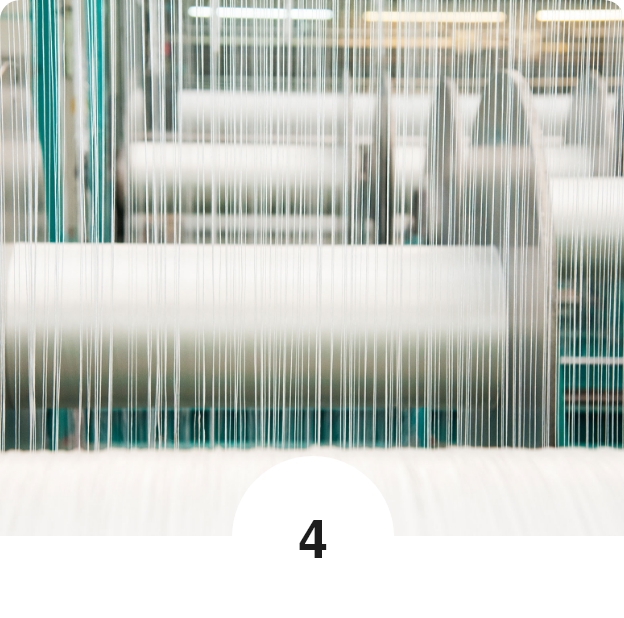 Pellets are Spun into Fibers or Threads
This is how plastic is transformed into more fabric-like material.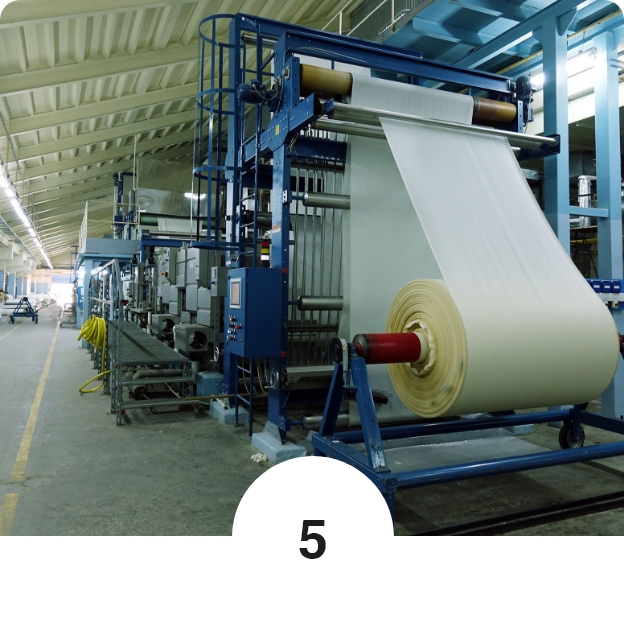 Recycled Fibers Are Woven into Fabrics
Just like cotton, linen, and other types of natural fibers, these recycled fibers are woven into various types of fabrics.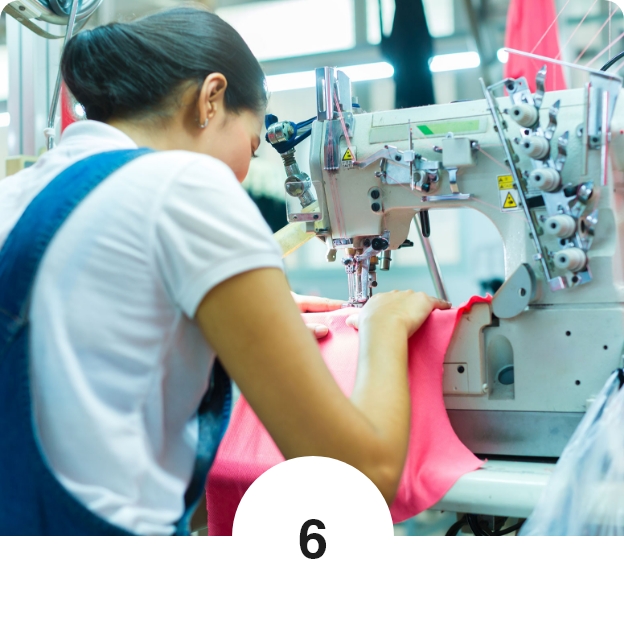 Fabrics are Sewn into Clothing, Bags & More
rPET fabrics are fashioned into apparel items of all kinds, including warm jackets, breathable athletic clothes, and stretchy t-shirts, as well as many types of durable bags, and even umbrellas!
That's it! While in some respects, the process to recycle rPET is complex, in other ways, it's really very simple. The water bottles and other plastic containers you recycle each day become the raw materials for brand new items that can carry your company's logo, brand, and messaging to all your employees, customers, and key stakeholders. In the end, it's a win for you, for your business, and for the world.
Products Made from Recycled Plastic Bottles
Now that you've seen what happens to plastic bottles after they are recycled and how they can be transformed into polyester fabric, it's time to be amazed by the vast number of awesome items made from recycled plastic bottles. The variety is sure to surprise you and you'll be delighted by the quality and care that goes into these items. You'll also be happy to see that things made from recycled plastic bottles come at only a slight premium. When you're paying top dollar for rPET products, its because you've chosen true luxury items.
rPET Athletic & Performance Apparel
You've probably heard that polyester fiber can be a recycled bottle product. Athletic clothing made from recycled plastic bottles can be cool and moisture-wicking, lightweight and protective, or warm and cozy.
Customized shirts made from plastic bottles are great gifts for students, sports teams, and employees, who will proudly wear your logo, company/team name, or design when they know the principles behind it. The Unisex Threadfast Apparel Ultimate T-Shirt is a staple everyone is sure to appreciate. With its simple classic design, it makes a great top for casual everyday activities like walking the dog or shopping for groceries – and passersby will never guess that these clothes are made partially from plastic bottles. Composed of a sustainable cotton and recycled polyester blend, these T-shirts are created with processes that use less water, energy, and chemicals so that recipients can feel good about what they're wearing.
If you're looking for a hoodie to match, check out the District® Re-Fleece™ Full-Zip Hoodie. Fleece made from plastic bottles, along with the same sustainable cotton, becomes a warm cozy hoodie. It comes in men's and women's styles and a variety of muted colors that are perfect for everyday use. Check out a few more rPET apparel items: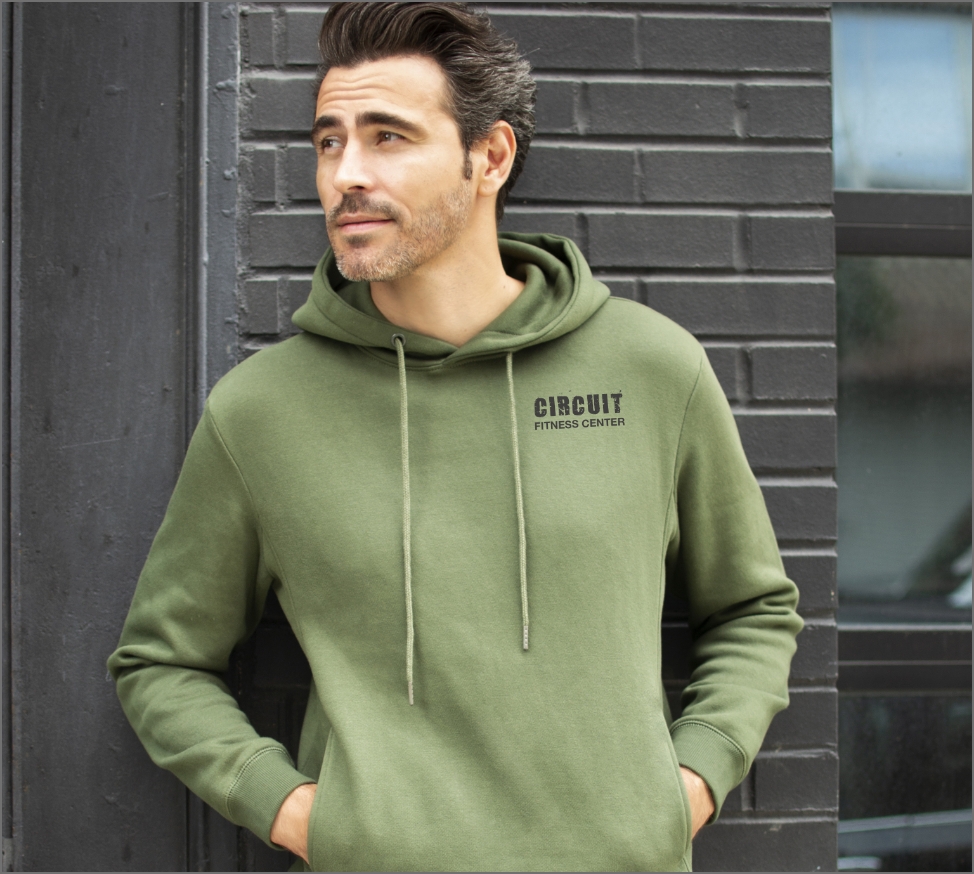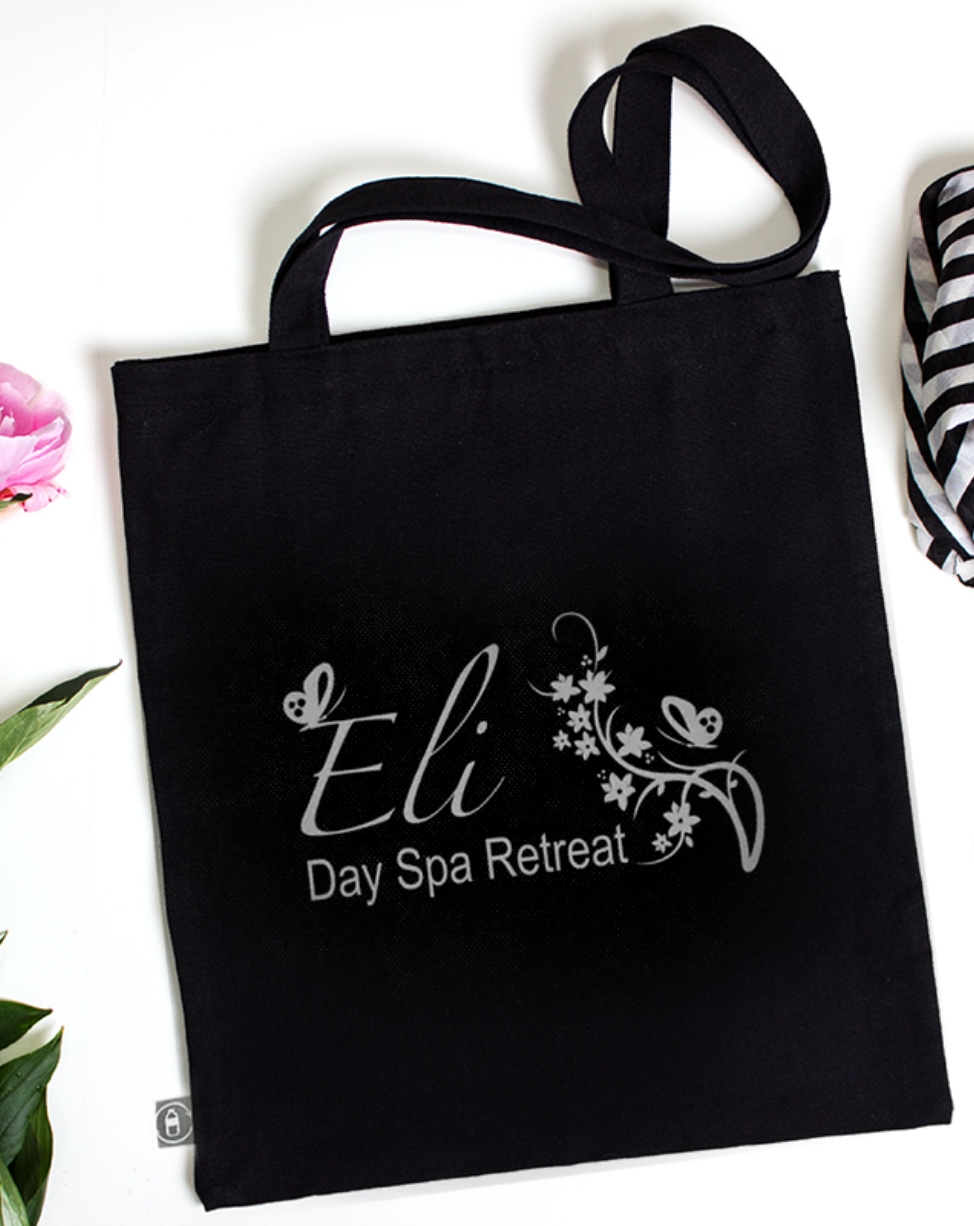 rPET Bags & Backpacks
Bags and backpacks make great gifts for students, businessmen, and parents. And backpacks made from recycled plastic bottles are even better. It's best when things made from recycled bottles get plenty of use – and since many of us use backpacks, totes, and bags on a regular basis, they're a great way to ensure we make the most of recycled plastic.
Students of all ages will love our Recycled PET On The Move Backpack. Made of 73 percent recycled material, this rPET backpack saves 15 water bottles from landfills. With a zippered main compartment, a smaller front pocket, and a water bottle sleeve, this backpack is perfect for elementary school, high school, and college.
rPET tote bags come in helpful on many different occasions, whether at the grocery store, at the beach, or on a trip. Customers who use our Non-Woven Tote Bag With 100% rPET Material instead of grocery bags score double – not only are they avoiding plastic bags, they're also reusing other people's plastic by using tote bags made from recycled plastic bottles.
If you're looking for more professional rPET bags, consider our Recycled PET TranSport It Tote. This tote has plenty of room and lots of pockets to keep items organized, including a zippered main compartment, front slip pocket, water bottle pocket, phone pocket, and pen/business card pockets. It has shoulder-length handles for easy transportation. This durable tote uses 84 percent post-consumer recycled PET, which is the equivalent of 12 recycled water bottles. Check out the wide variety of available rPET bags and backpacks:
rPET Luxury Towels
When someone asks what recycled bottles are used for, towels might be the last thing that comes to mind. However, towels made from recycled bottles are yet another item with an eco-friendly option.
The Slowtide® Quick-Dry Towel is a basic 60" by 30" towel that can be used in a variety of settings: in the bathroom, in the kitchen, at the beach, and so on. These towels are absorbent, fast-drying, and lightweight with a double-sided print. Your logo can be printed on a 2" by 4" imprint area.
If you're looking for a smaller version, check out the Slowtide® Quick-Dry Fitness Towel. At only 31" by 13", this towel is perfect for the gym and other sports.
Whichever size you choose, recipients can feel good about this staple household item knowing that it's made from 100 percent recycled materials.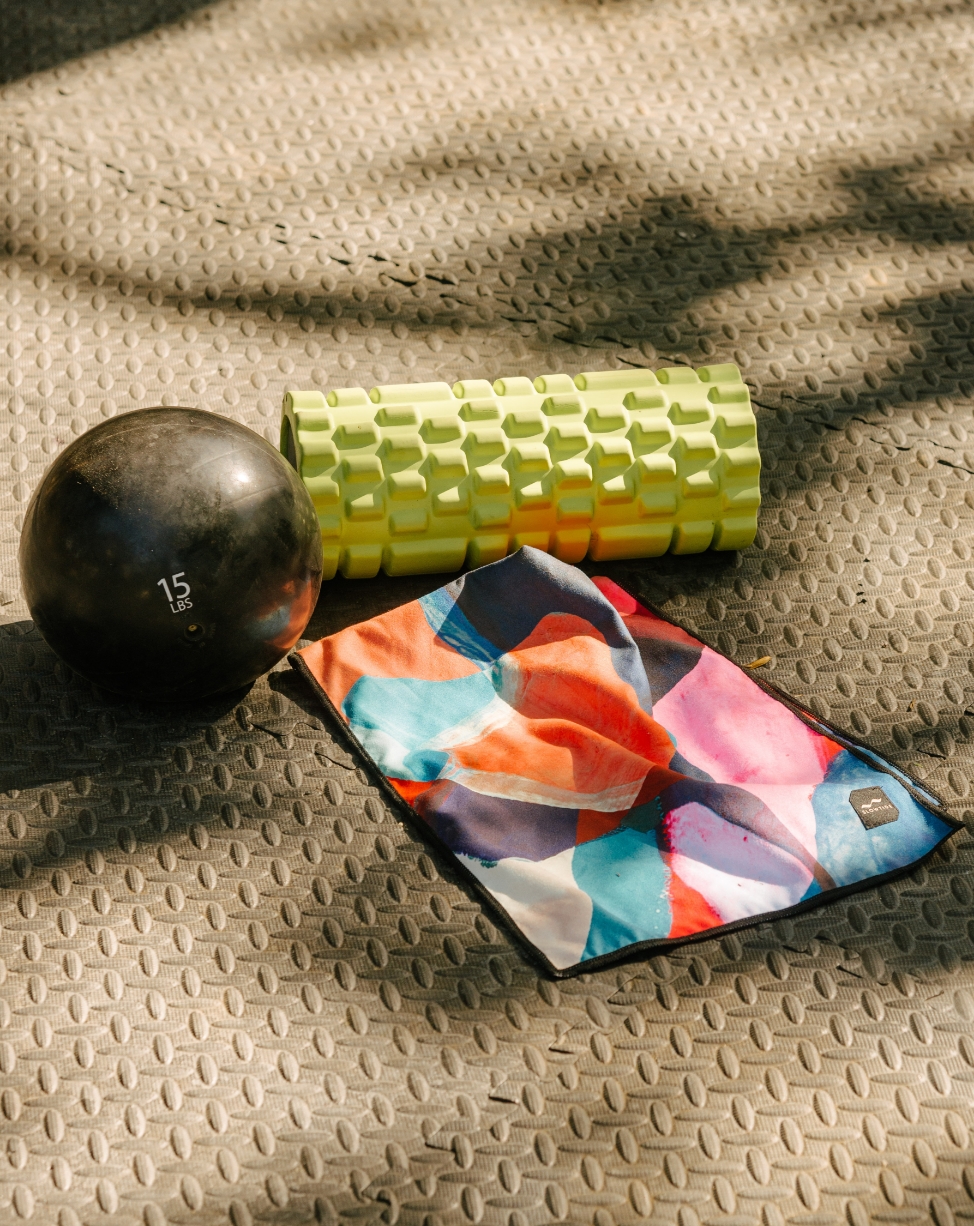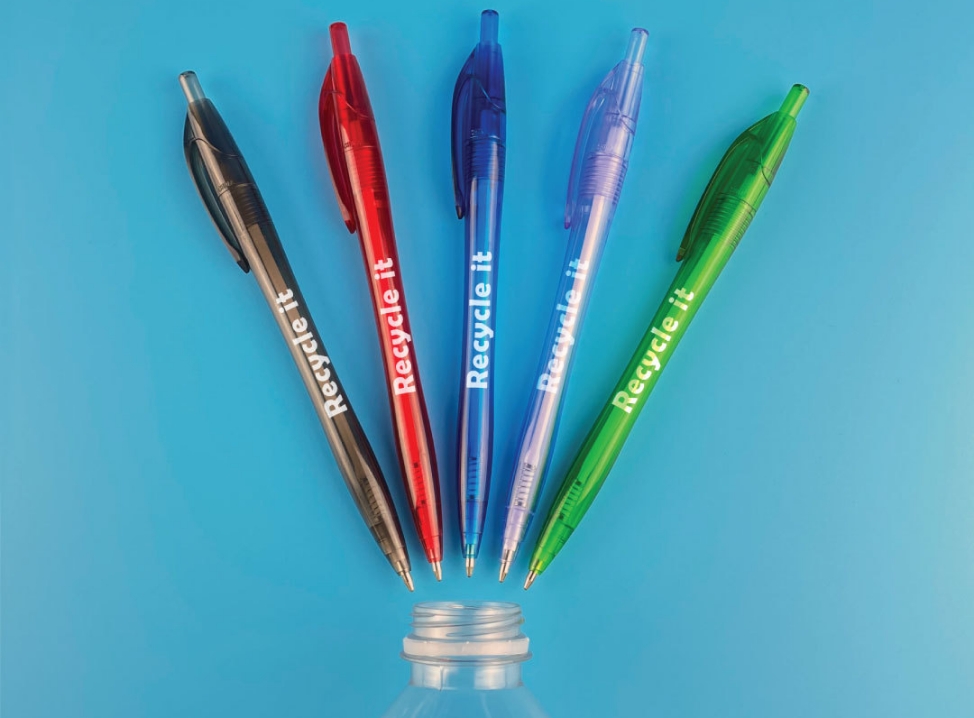 rPET Pens
Because they are so small, it may seem pointless to go to the effort of purchasing eco-friendly writing utensils like pens made from recycled plastic bottles. But in America alone, 1.6 billion disposable pens end up in the trash each year. When you decide to hand out pens as a swag item, choosing an eco-friendly option can make an impact.
Our Javalina® Revive Pen is yet another of the many everyday items made from recycled water bottles. With a sleek, classic design and translucent barrel, this pen writes in smooth black ink and is a perfect addition to any desk.
A great way to keep pens out of landfills is to find refillable options. Even better, find refillable pens made from recycled water bottles, like our Pilot™ Bottle To Pen Gel Roller Pen. From a trusted brand, this pen is made from a majority of recycled material. With a 7 mm retractable tip that's perfect for a variety of uses, this pen is a must-have in the office, school, and home.
rPET Luxury Blankets
If you're still wondering what you can make with recycled plastic bottles, it should come as no surprise that rPET products can be transformed into super soft blankets and throws that are perfect for cuddling up on the sofa, having a picnic, or hanging out around the campfire. Everyone will appreciate the gift of a cozy blanket made from plastic bottles, making it a great luxury gift for employee or customer appreciation.
Our Field & Co.100% Recycled PET Sherpa Blanket is a soft and cozy 50" by 60" blanket made from recycled bottles. With a stylish design, this blanket is sure to add the perfect touch to any living room or bedroom setting – and no one will ever guess that it's made from recycled plastic bottles.
An outdoor blanket like our Slowtide® Camp Blanket is another great option for customers or employees who like to spend their weekends camping or on picnics. This camp blanket is sturdy and water-repellent on one side and soft on the other, making it the perfect protection from light rain and/or damp ground. When recipients are enjoying the great outdoors with this 100 percent recycled blanket, they'll know that they're doing their part to protect nature.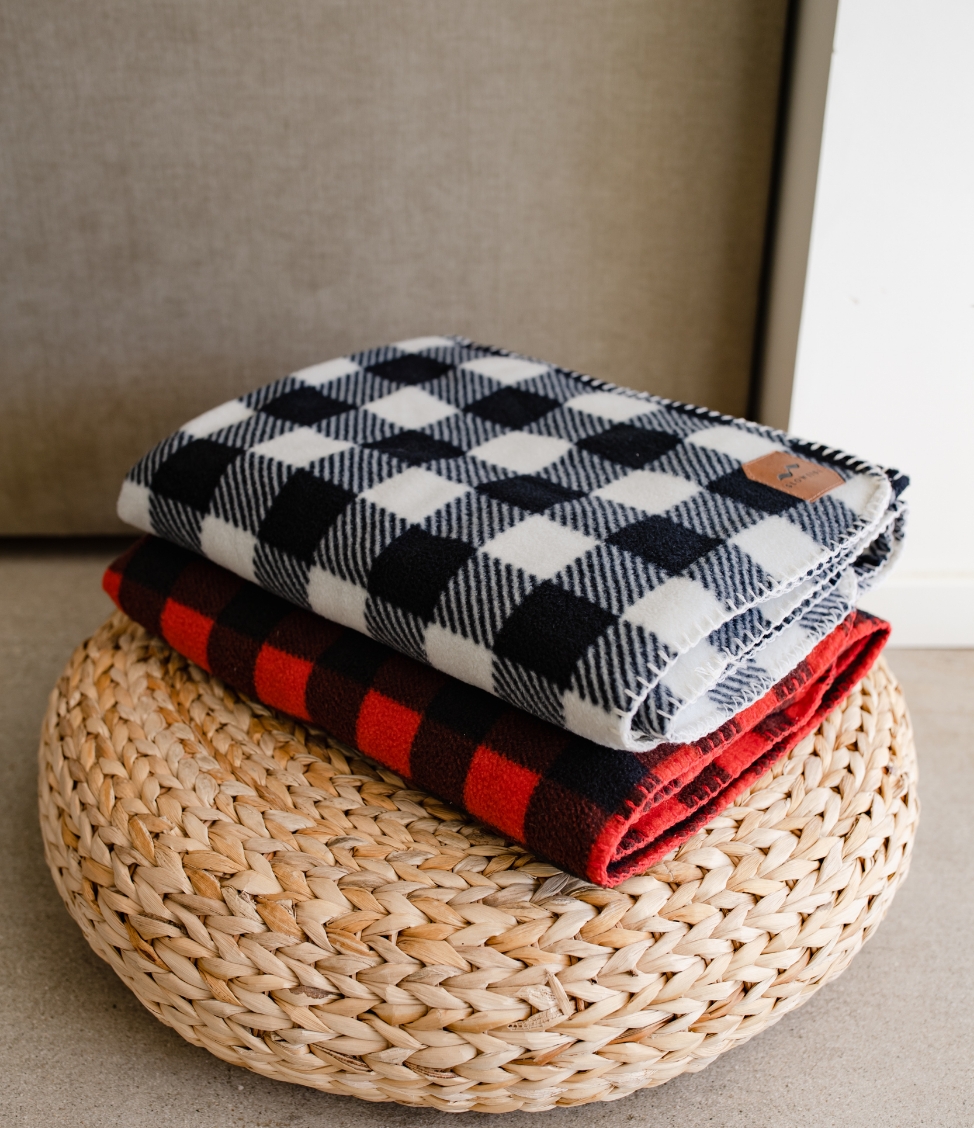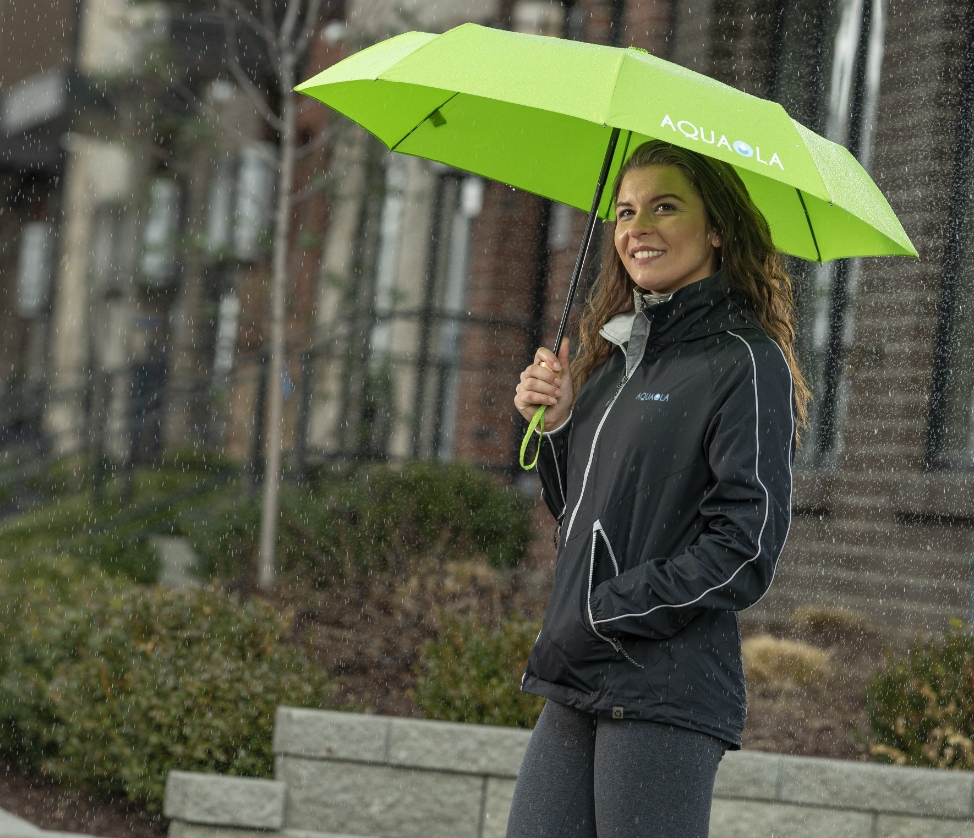 rPET Umbrellas
It's a great idea to keep an umbrella in the car, in a tote bag, and/or by the door. It's always hard to find an umbrella when you need one, especially when unexpected rain starts falling. Customized rPET umbrellas are a great way to advertise your brand on rainy days and help your customers stay prepared for unexpected weather.
If you're looking for a functional, compact design, check out our 42" Arc Telescopic Umbrella with 100% rPET Canopy. The canopy of this umbrella is made from rPET material and can be printed with your design over a 7" by 4" area. It has a lightweight aluminum frame and fits into a compact 9" sleeve with its telescopic design. When open, the umbrella has a 42" arc which is perfect for a single user or a small group.
Our 48" Recycled PET Auto Open Fashion Umbrella is a bigger option that is perfect for families, students who want to keep their backpacks dry, or anyone who just wants a little more coverage. This umbrella has a unique design with a natural wood handle and tips. The canopy of the umbrella is also made of 100 percent recycled material with the option to imprint your design on it.
rPET Reusable Bottles & Cups
Purchasing clothing, umbrellas, pens, and backpacks made from recycled water bottles is one way to do your part for the planet. A better way is to keep single-use bottles out of landfills and oceans by gifting reusable rPET bottles and cups. When paired with custom straws, reusable rPET water bottles, cups, and tumblers make a perfect gift that recipients will be happy to use again and again.
Check out our 20 oz EcoPETE Recycled Bottle Drink-Thru Lid for a unique water bottle made from recycled plastic. At a 20 oz capacity, this water bottle is small enough to fit in a cup holder or water bottle pocket but still holds enough liquid to keep hydrated throughout the day. It comes in six unique colors to make your company stand out.
Another slightly larger reusable water bottle made from recycled plastic is the 25 oz CamelBak Chute® Mag Bottle Tritan™ Renew. This is a great rPET bottle for on the go, as it's shatter-, stain-, and odor-resistant. Made of Eastman Tritan™ RENEW, a sustainable material that contains 50 percent recycled material, this CamelBack water bottle is BPA-free.
If you're looking for a cup to hold your morning coffee or tea, check out the 16 oz The Grind Eco Cup. You've never seen a cup like this – it's made of a combination of coffee grounds, cornstarch, and melamine. It comes with a sleeve that contains 58 percent recycled material. The wide mouth and screw-on lid makes the cup easy to clean.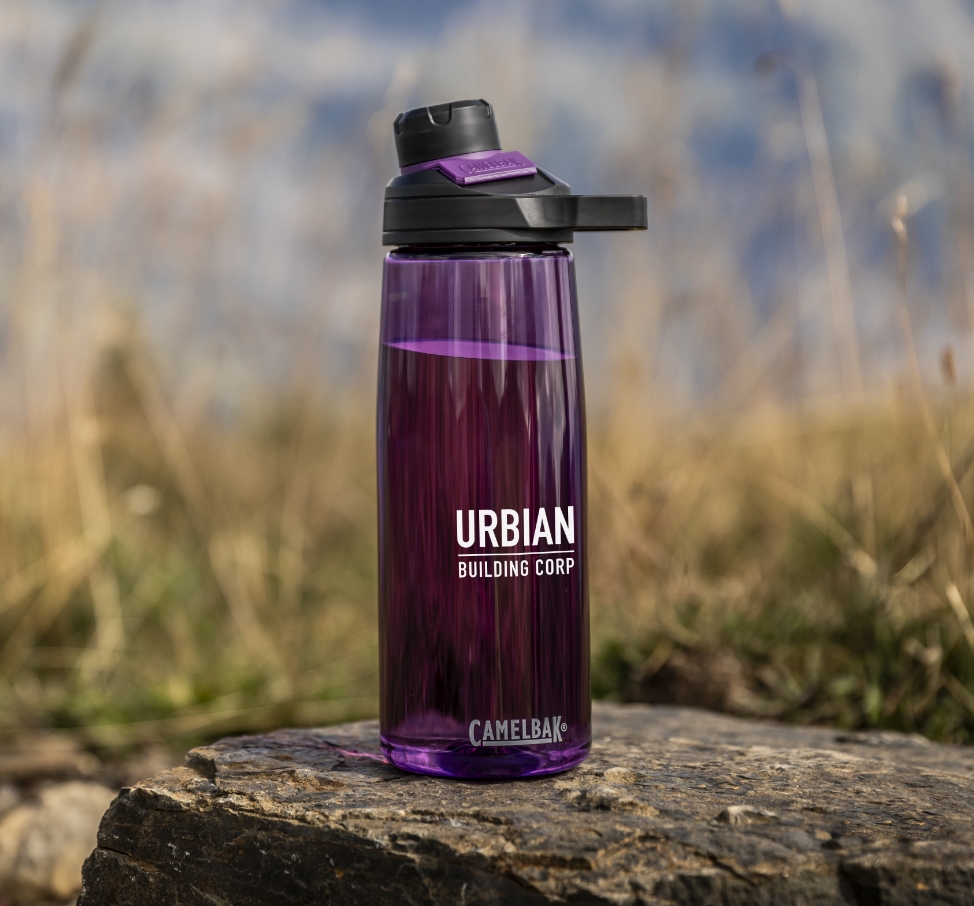 rPET Office & Tech
Recycled PET material can also be made into useful office supplies, some of which customers may not know they need. Innovative products like our SCX Design® Eco Ring Light Cable will impress clients and employees and make them proud to display your brand on their desk. The Eco Ring Light Cable is a helpful little tool that makes it easy to charge any device – it's compatible with Apple® 5-Pin, Micro-USB, and USB Type-C devices. A keyring is provided, and a light-up disk displays your laser-engraved company logo.
In a world where remote work is becoming the norm, the Auburn Tri-Fold Wireless Desk Pad makes the perfect gift for employees working from home. With a stand for a laptop, tablet, or book, a wireless charger, and a pen organizer, this desk pad unfolds to make anywhere an office. When not in use, it becomes an rPET foldable bag for easy protection and transportation. The desk pad material is antibacterial rPET that keeps your belongings safe on all types of surfaces.
Journals come in handy for many different uses, whether employees and clients use it as a diary, to scribble out daily to-do lists, or as scrap paper for phone numbers and reminders. The 5.5" x 8.5" Reclaim Recycled Bound JournalBook® is made of recycled PET material with a recycled leather front pocket and 80 recycled pages. The muted, professional design makes the perfect background for any company's name and logo. At 5.5" by 8.5", this journal is a great size to keep in a bag or on a desk. Here are a few more ideas for creating an eco-friendly office: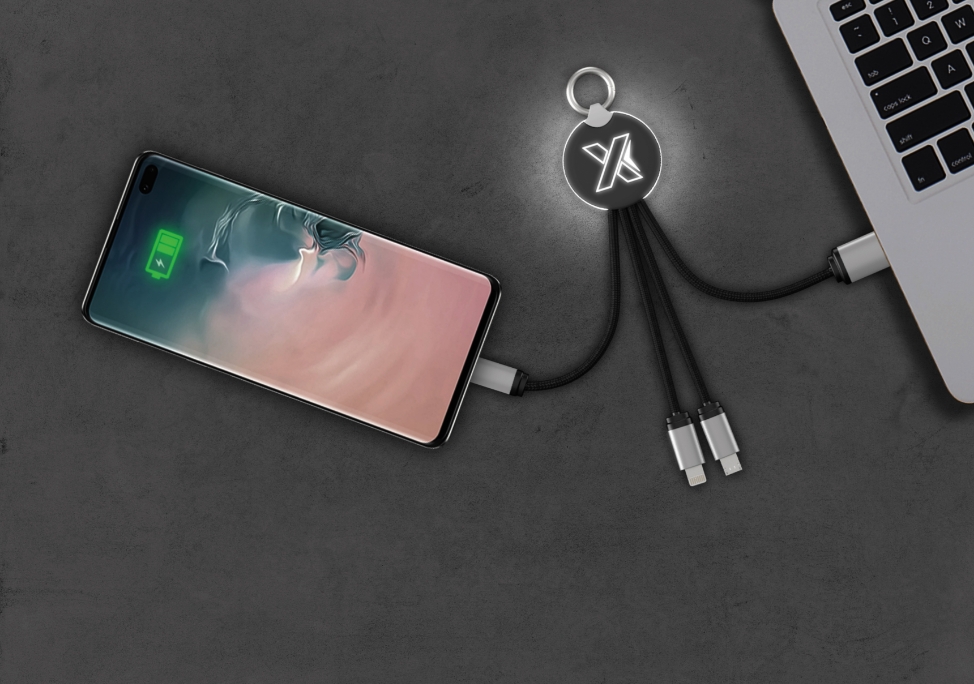 rPET Luxury & Brand Name Bags
Customers, employees, and event attendees love to receive brand name products, as they know they can trust the quality. They'll be happy to use a variety of recycled water bottle bags, totes, and backpacks for all their needs.
For the student or office employee, give our Repreve® Ocean 15" Computer Rucksack. Anyone would be proud to wear this classy rucksack on the bus, between classes, or to the airport – and they'll be even prouder knowing it was created from recycled ocean plastic. With a laptop sleeve, cinch, and buckle closure, two water bottle pockets, and a front zippered pocket, this rucksack has a place for everything.
The Arctic Zone® Repreve® 25-50 Can Expandable Cooler is the perfect rPET cooler bag for a picnic, sports event, or any other outdoor gathering. With a tote design, this cooler is easy to carry and the zippered front pocket is perfect for can openers and other utensils. The rPET bag is insulated and leakproof to keep your drinks cool and dry. Here are a few more of our favorite name brand rPET gifts.
As you can see, PET resin is the most commonly used material in consumer products today. Disposal water bottles, food containers, and a myriad of plastic items consume virgin PET material. To prevent more of these single-use items from ending up in our landfills or our oceans, we need to take advantage of the environmentally friendly recycling process that turns these post-consumer items into eco-friendly, useful products such as clothing, drinkware, bags, and other fabric-based materials made from rPET polyester.
The next time you need to purchase swag, Earth Day gift baskets, employee gifts, conference giveaways or other promotional items, consider choosing rPET eco-friendly products. Not only will you please your employees, customers, community members, and other stakeholders with creative, useful items, but you'll be making a statement and a visible difference in protecting our planet for future generations.