Brand Boosting Swag Bags
for Conferences & Trade Shows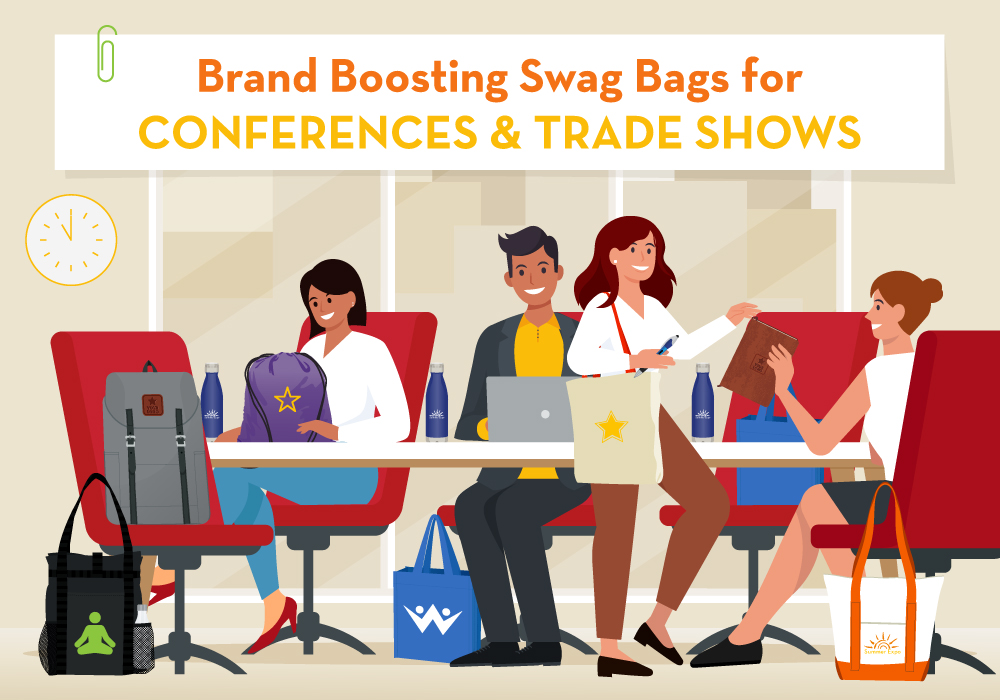 published: October 22, 2021
Whether you're setting up a conference to exchange information with guests, planning a banquet to reward employee achievement, or attending a trade show to show off your products and services, it's important to leave a positive first impression. One of the best ways to do that is with imprinted swag bags customized with your logo or message and perfectly targeted to your audience.
There is one caveat, though: You want to make sure your swag bags don't end up in the garbage. If you've ever been part of a conference or trade show, you know how depressing it is to see trashcans filled with branded bags and promotional items.
Luckily, by putting a little thought into your convention swag bag ideas, you can provide functional and stylish bags filled with useful gifts that recipients will want to keep. Read on for great ideas and get ready to connect!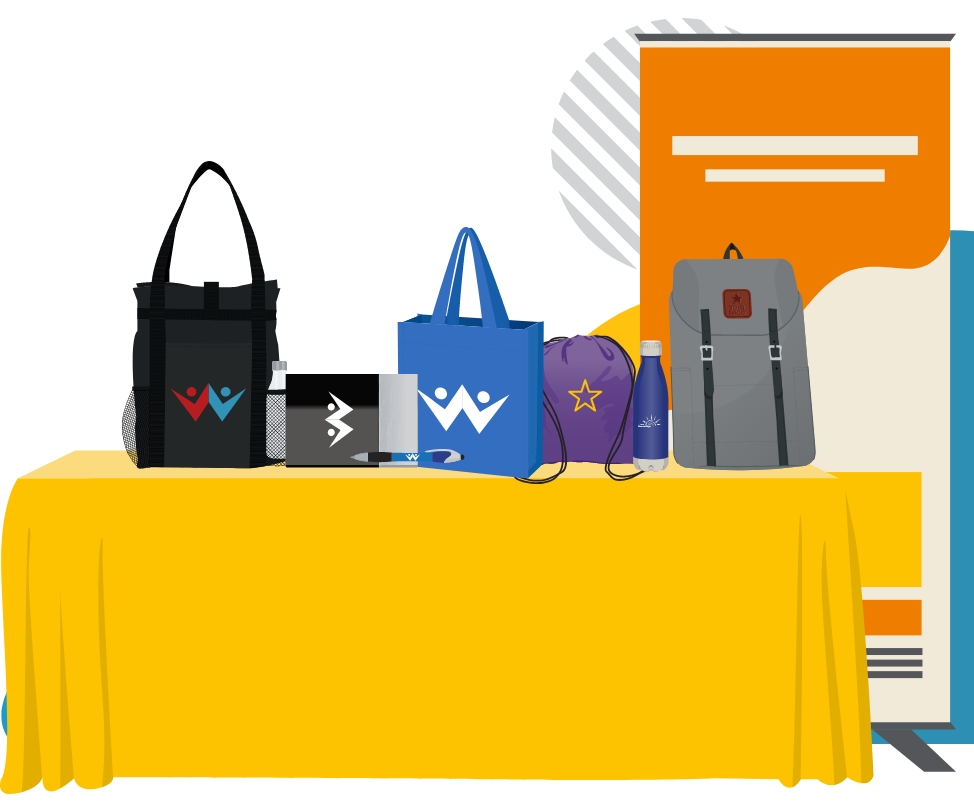 Pre-Bundled Swag Bags
Coming up with quality conference swag bag ideas doesn't have to be complicated, and we are here to help. Our pre-bundled promotional swag bagscome with top items in sturdy bags that guests will appreciate.
Get started by ensuring your promotional bags are stuffed with goodies that have a purpose. Whether you're putting together a conference in person or virtually, you will want to make sure your items are shaped for the event you're hosting.

Swag Bags for Conferences
Your next conference will go off without a hitch with the right conference swag bags. The perfect way to welcome guests to your event, these bags can be given out with itineraries outlining the schedule and details on what's to come.
Exclusive kits like the Terrific Trio are great if your event is outdoors since they come with items like a BPA-free plastic water bottle and sunglasses featuring UV400 lenses, or choose The Essential Five that includes swag for conferences that will impress in any situation like a 16 oz tumbler and cooler tote bag.
Virtual Conference Swag Bags
The recent pandemic has shown companies the benefits of virtual conferences, providing them with more opportunities to reach new customers and clients who might not traditionally attend an in-person event. Of course, that doesn't mean they're ignoring the power of branded supplies. The best virtual conference swag bags incorporate supplies that attendees can use to engage in the event.
Send out the Virtual Meeting Kit including items like earbuds and a silver lining journal for taking notes during the conference or the Snack & Learn Meeting in a Box filled with tasty treats to be enjoyed during the presentation.
Here are a few more swag bags you can send out a week in advance to remind attendees to tune in:
High-End Convention Swag Bags
Don't wait to get names on the list for your next convention. Increase early registration by offering high-end convention swag bags to the first 100 people who sign up. Conference-goers will be happy to have their names on the list early when they receive a double-wall, vacuum-insulated Tundra bottle and water-resistant Highland Peak cooler when you gift out The Basecamp® Metropolis Event Gift Set. Or make them feel like an executive with the classy Fabrizio Travel Backpack Set featuring a flip-top backpack, journal and luggage tag.
Trade Show Tote Bags
As with any event, it's important to stay one step ahead when hosting a trade show by having the necessary event items for everything to run smoothly, and that includes providing attendees with custom trade show bags to fill with the swag and marketing materials they receive while moving from one trade show booth to another.
Whether you're looking for budget-friendly, eco-friendly or tech-friendly bags for trade shows, Geiger has the top swag bags for every event. On top of that, these bags are reusable, meaning attendees can continue to use them long after the event for grocery shopping, transporting supplies to and from the office or any other purpose. Top picks include:

Best Items to Fill
Trade Show Swag Bags
Booths are always looking for the best giveaway items to attract attention and get attendees thinking about their brand. By choosing the right swag for trade shows, you can ensure your brand stays with customers for months or even years. Here are some top items to include in your trade show tote bags:

Haven't found the perfect swag bag for your next conference or trade show? Create your own kit with products of your choosing by using Geiger's kitting services. These services allow you to customize highly personalized gift sets for any occasion, and we can send your swag bags to your business location, the convention site, or even to individual addresses in advance of the event.