Succeed with Swag – the Surprisingly Smart
Student Recruiting Strategy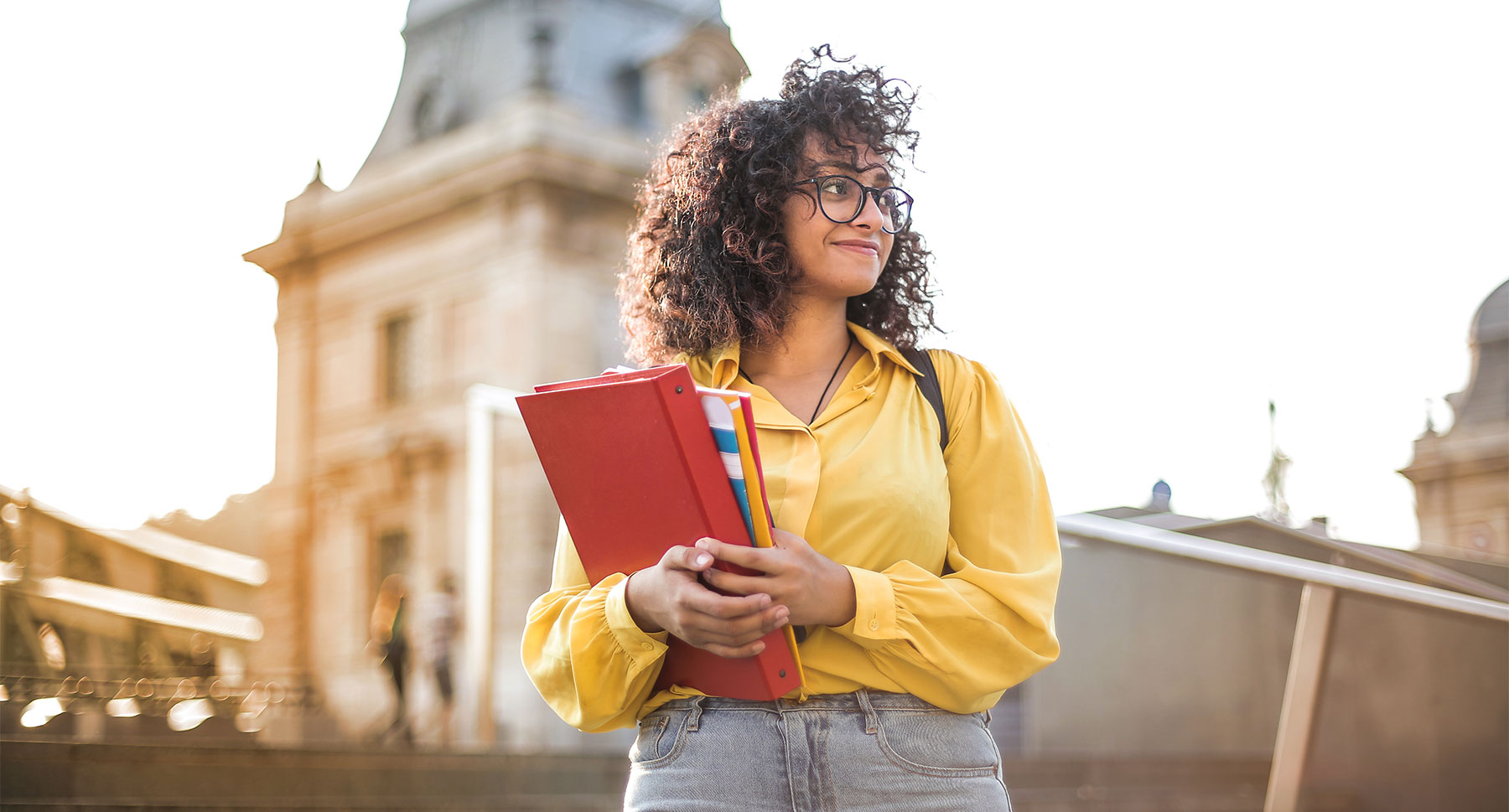 published: July 26, 2023
Competition is fierce when it comes to attracting and snagging the best and brightest students each year. It's no wonder that crafting a strong campus recruiting strategy is no longer optional; it's table stakes today.
Our team has spent more than 15 hours talking with professionals in the college and university recruiting space and researching to learn more about recruiting best practices. We've combined this research with our own years of marketing experience to provide you with a blueprint for the upcoming recruiting season, and we're excited to strengthen your recruiting methods and bolster your success together!
One thing we know is that campus recruiting giveaways must play a big part in your recruiting strategy this year. According to the 2023 Promotional Products Association International (PPAI) consumer study, 66 percent of all participants, age 18 to 24, said receiving promotional products from a brand they currently shop with would strengthen their loyalty and 61 percent said they would look up a brand they did not know much about if they received a promotional product from them. This translates to colleges and universities as well, encouraging students who may not know much about your school to take a look.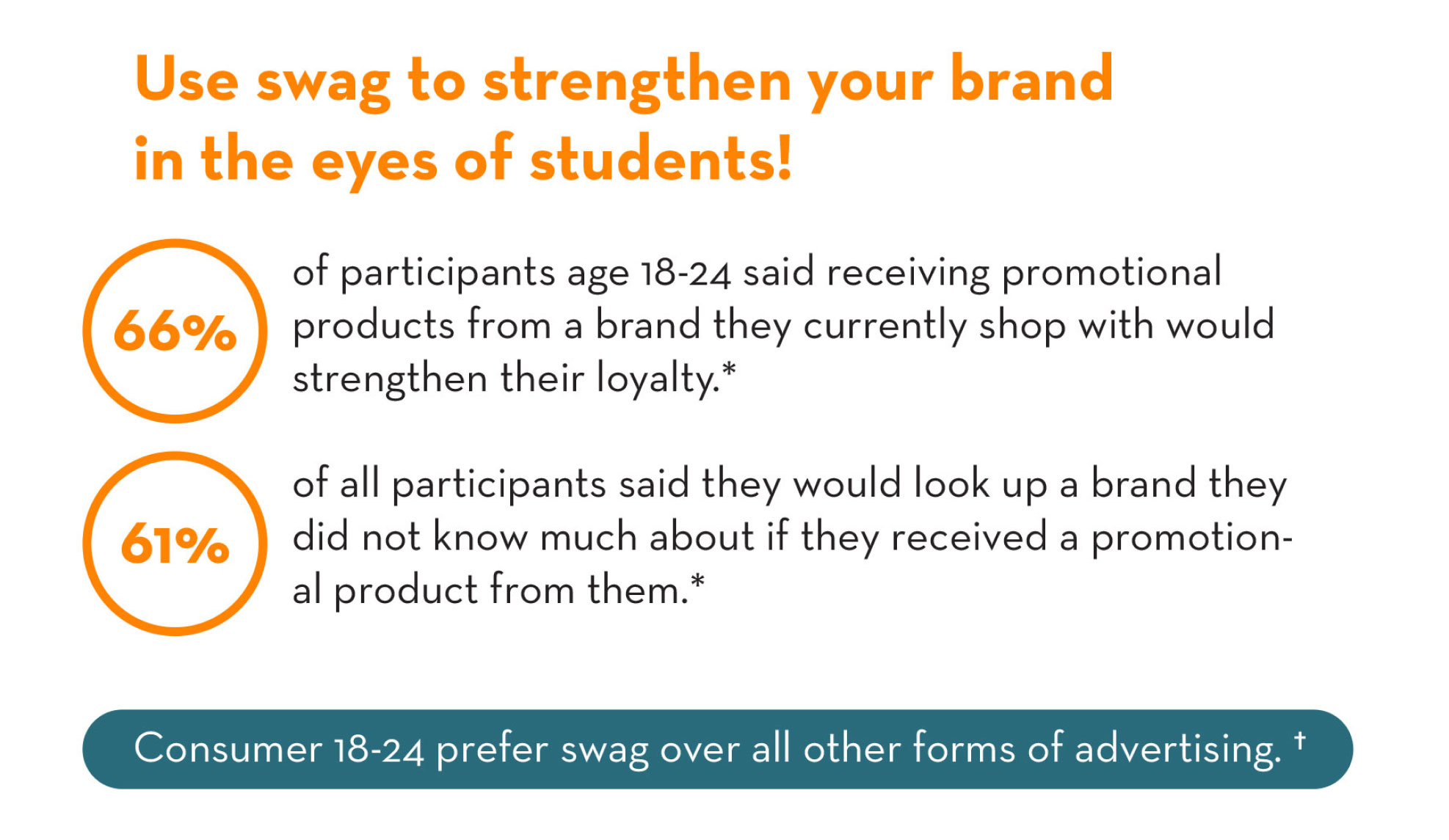 In addition, the 2023 Advertising Specialty Institute Research Ad Impressions Study reported that customers in this age group prefer swag over all other forms of advertising. Swag… for real? Yes, we're serious! Swag should play a part in every recruiter's strategy and our thousands of college & university customers agree.
Our college and university customers depend on swag to share and solidify their brand with prospective and incoming students as well as enrolled students, their parents and families, staff, faculty, alumni, and the surrounding community. Put your marketing dollars to work more effectively with branded college gifts!
Here's how:
Order Items Six Weeks Before Your Event
In a world where you can get just about anything you want delivered to your door within a couple of days, it's easy to procrastinate ordering college recruiting swag. However, it's important to remember that it takes time to imprint your university or school logo on your selected items.
Our team recommends ordering four to six weeks before you need your college recruiting giveaways. Plan to order your graduation gifts in early spring, your orientation giveaways right after graduation, and your recruiting swag orders by summer.

If you can pool your marketing budget, you may be able to take advantage of bulk rates and single shipping costs. Stock up for every event during the school year including gifts for alumni visitors during homecoming, holiday presents for friends and family, and school spirit gear for every sporting season.
Consider Top Five Most Influential Promo Products
Since you'll be reaching out to a diverse and potentially large audience, it's smart to stick with some of the most popular items to get the greatest exposure for your university or college in the long run. Remember that college recruiting swag has a dual purpose: to attract new students to your school and to spread the word about your institution.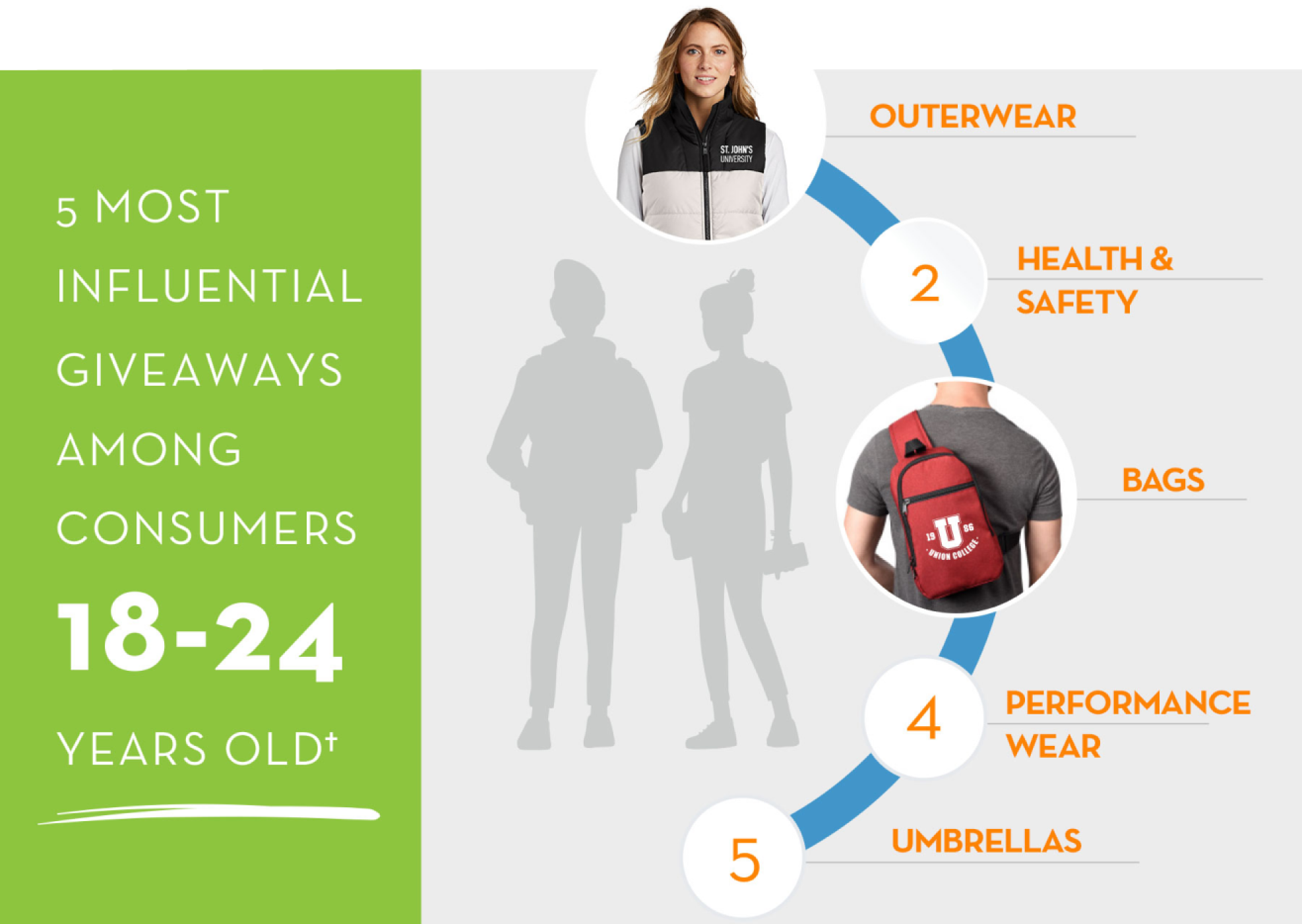 Two of the most popular giveaways fall within the branded apparel category: performance T-shirts and outerwear. Think of all the young people you see who are wearing university tees, sweatshirts, and jackets, regardless of whether they attend the school, have a relative studying at that institution, or just like the look and comfort of the item.
Another great choice is giving away branded bags or totes. College students usually have a lot of books, electronics, and other gear to carry around all day and into the night, especially if dorms are not particularly close to classes. These items make great gifts for just about anyone who needs to tote groceries, toys, work items, or anything else in life, extending the purpose beyond campus and into students' home communities. Each use means another exposure for your institution throughout the community, the country, and the world.
Continuing in the theme of gifting useful promotional products, the fourth idea is branded umbrellas. Although some students drive to campus, many spend most of their days walking to and from classes, the dorm, campus jobs, and other extracurricular activities. Help keep them dry during inevitable rainstorms while promoting school spirit with branded umbrellas.
Finally, more and more young people are focused on health and wellness. Help them reach their goals with hand sanitizers, relaxation products, and stress relievers, branded with your school logo. Many are inexpensive and extremely useful, a combination that will be appreciated by your institution and your recipients.
Use a Marketing Funnel to Strengthen Recruiting Efforts
Those in the education industry can apply tried-and-true marketing practices when it comes to recruiting. A funnel is used in traditional marketing to represent the sequence of interactions an individual has with a brand, beginning with the first introduction through converting them into customers, in your case, enrolling them as students. You can use college recruiting giveaways in each of the stages of the funnel to enhance the perception of your school.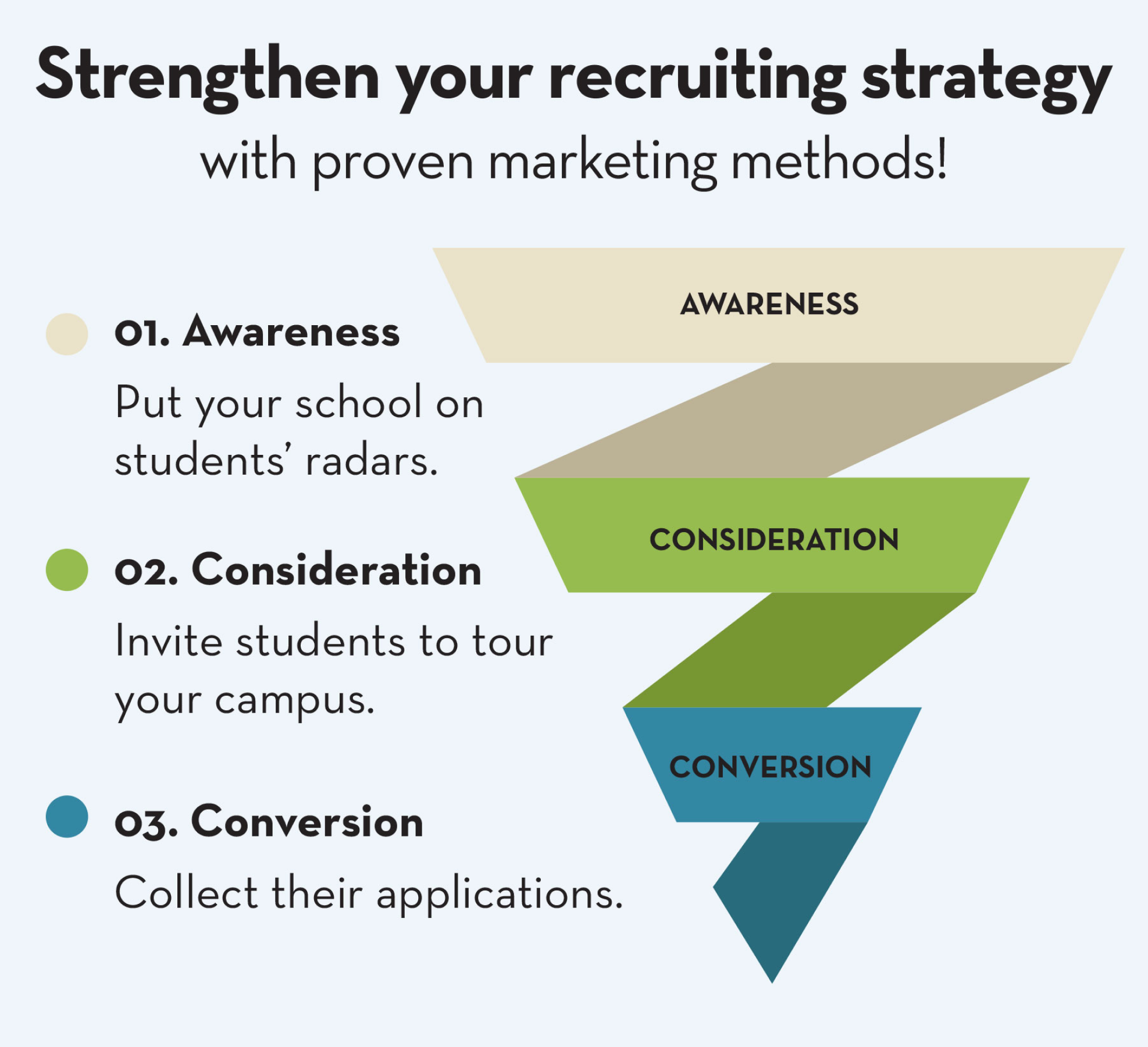 During the awareness stage, high school students are beginning to consider their college options. They are interested in gathering as much information as possible regarding their potential choices so they can determine which schools to explore more deeply and visit.
Most likely, you'll be hosting campus recruiting events, attending high school college fairs or trade shows, or advertising in various avenues during this time. Be sure you invest in branded table throws, posters, printed material and goodie bags filled with college recruiting swag to make your school stand out among the competition. Remember this is the attention-grabbing stage of the marketing funnel; the more students you can engage, the more potential applicants you will have later in the process.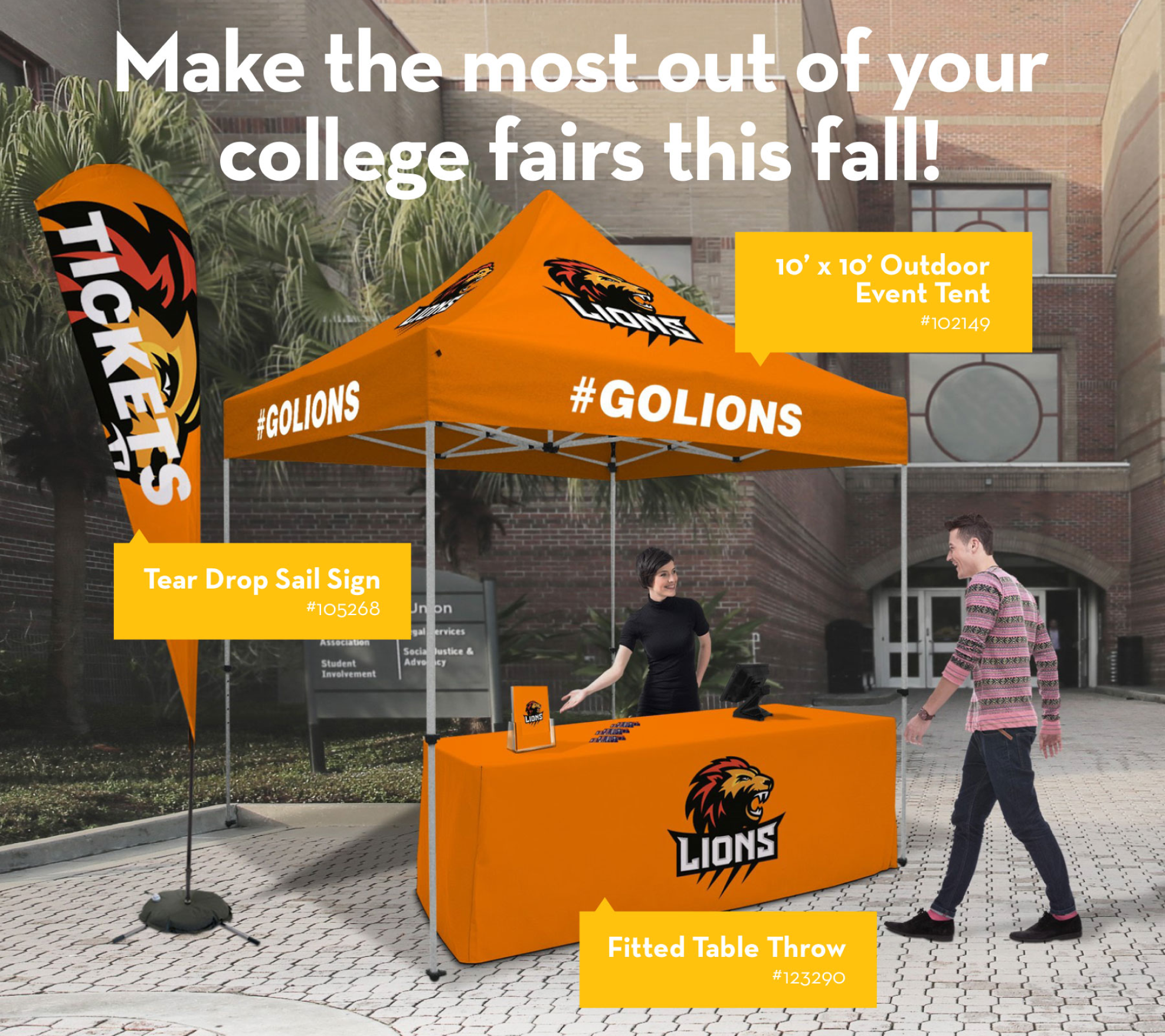 After these awareness activities, you will likely have collected contact information for interested students. This moves these prospects to the consideration stage of the marketing funnel. Now is the time to engage with these more seriously interested students and parents by encouraging them to explore majors, learn about the city where you are located, and understand your college's unique offerings. Offer campus tours, in-person interviews, or student-hosted visits to help move your school or university higher up on those students' college lists.
Finally, the most interested group of students will convert by applying for admission – but your job isn't done yet. Students may apply but, as you very well know, that doesn't mean they'll accept your offer. Stay in touch with these students throughout the process to keep them engaged & excited. When it comes time to extend offers, stand out from other schools with a fun acceptance gift package, full of items that can plant the seeds of school spirit for your college. At the very least, a tech tattoo sheet is the perfect affordable gift to tuck in with your acceptance letters that will help your school stay top-of-mind.
Here are other popular college recruiting swag items →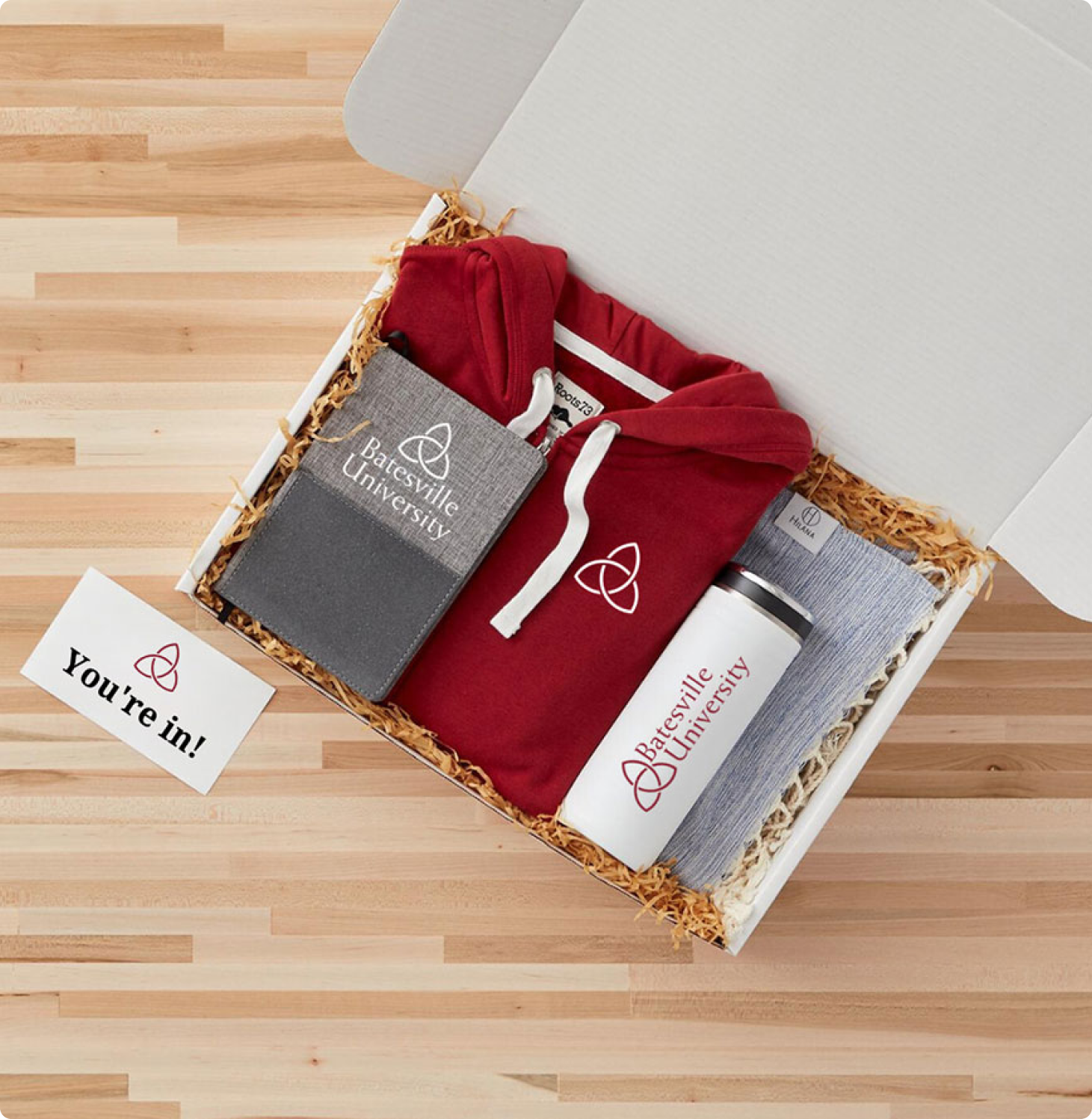 Check Out These Giveaways for Your Region
The most popular college recruiting giveaways may vary depending on the location of your college or university. Things like climate, humidity, and temperature make a big difference for this group that spends a good amount of time outside.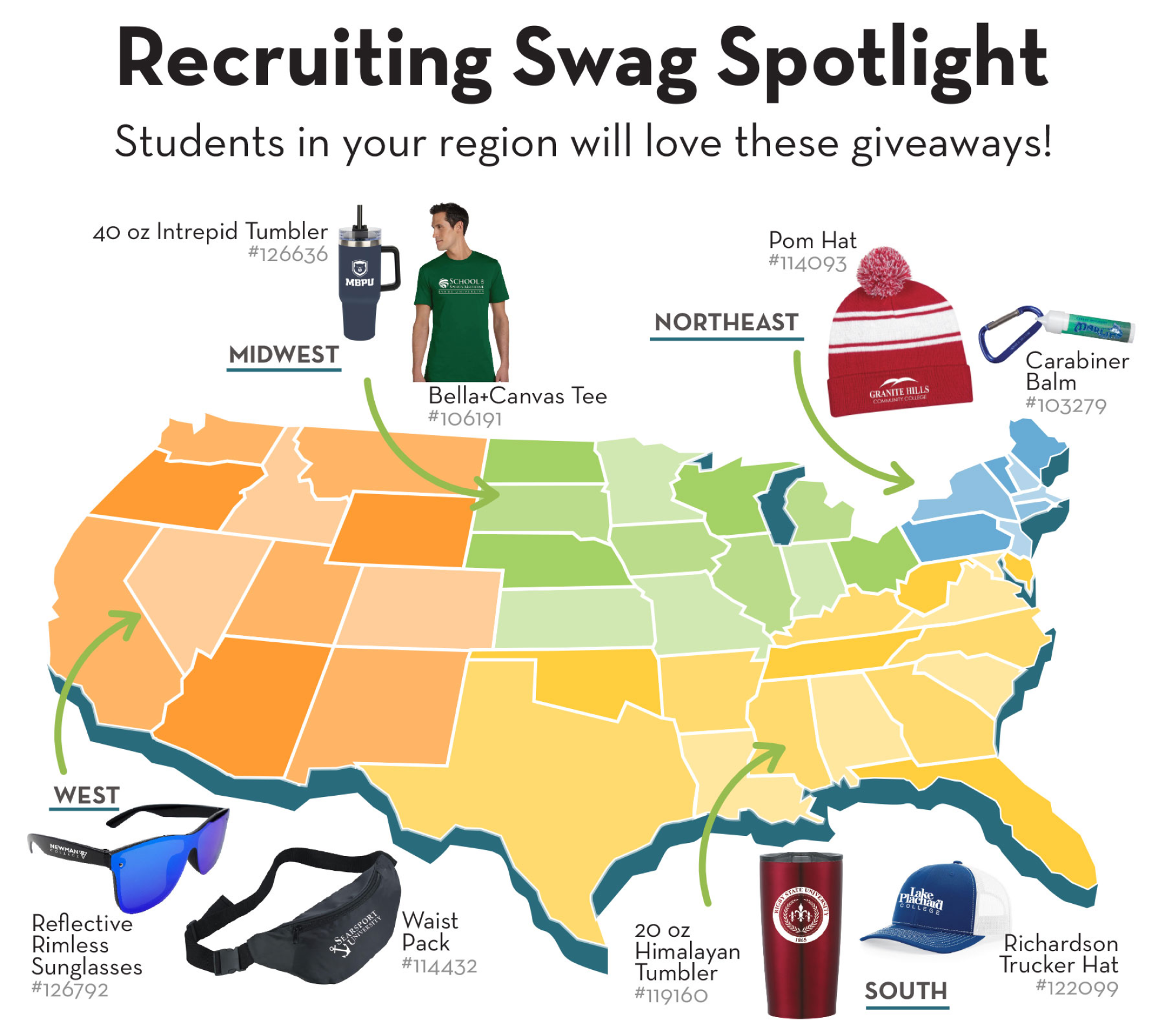 Schools located in the Midwest may find that students appreciate our Bella+Canvas tee for those mild days on campus, and a quality drinkware to stay hydrated. However, colleges in the Northeast region may want to provide the pom hat or protective lip balm as gifts at university recruitment fairs. Keep prospective students in the South caffeinated with branded tumblers and protected from the sun with one of our many caps or promotional sunglasses.
Establish an Online Acceptance Gift Store
We know recruitment season can get pretty busy and having to coordinate packaging and shipping acceptance gifts on top of all your other responsibilities may be too much to add to your plate. That's where we come in with a free online acceptance gift store. Simply select the gifts you'd like to include in your college acceptance packages based on your budget, location, and branding. Our team builds the online store and handles all the fulfillment and shipping. All you need to do is include the URL to your store in your acceptance letters. When accepted students visit your online store, they get to choose the gift they really want and will actually use.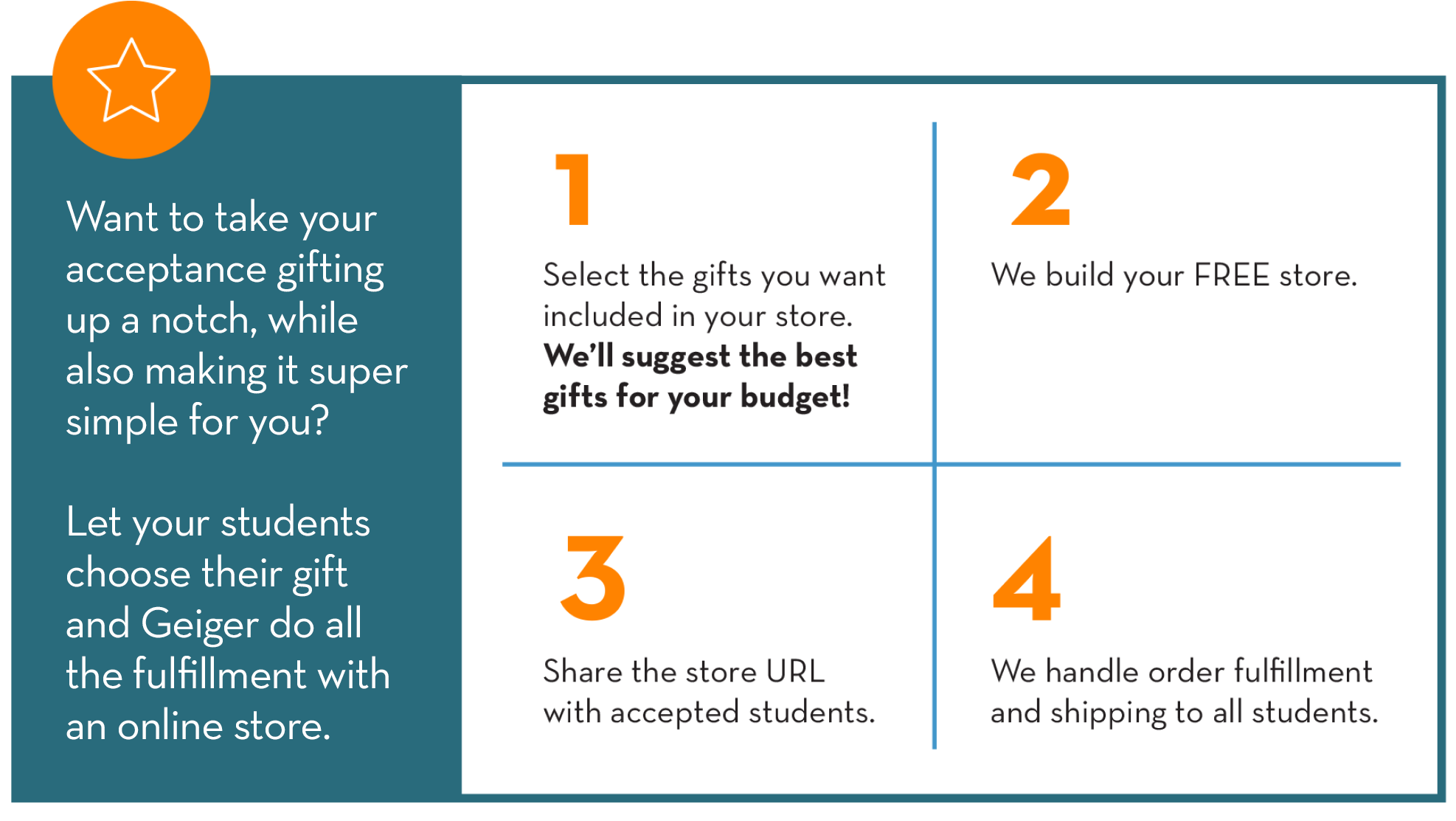 Get started with your free store today!
We hope this information has helped you build or refine your college and university recruiting strategy for the upcoming season. Understanding when and what to purchase, how to use a marketing funnel, and the benefits of an online store are just a few best practices that we at Geiger and your colleagues at other universities have discovered.
Remember to use every opportunity to engage prospective students and their families in addition to your existing student body, faculty and staff, and surrounding community. Events and giveaways can promote your higher learning institution and all it can offer to future generations.