Geiger Strengthens International Reach with Acquisition of Firebrand Promotions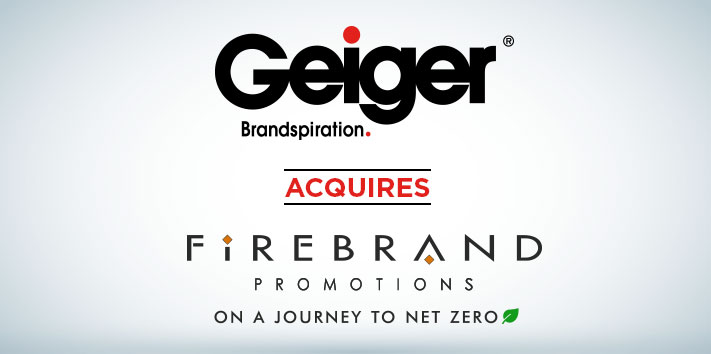 July 12, 2023 – Lewiston, ME – Geiger continues its international expansion with the recent acquisition of Firebrand Promotions, an eco-conscious company based in Leatherhead, UK. This strategic move marks the company's second acquisition in 2023. Geiger is the largest privately held and family-owned promotional products distributor in the world.
Vicky Kinasz, Managing Director of Geiger International, expressed excitement about welcoming Firebrand into the Geiger family. "We are delighted to have Firebrand join us, as their dedication to sustainability closely aligns with our own values. By merging our strengths and expertise, we can deliver even greater value to our customers while driving positive change in the promotional products industry," stated Kinasz.
Firebrand Promotions, in business since 2002, has established a powerful reputation for its sustainably focused business practices and strong client services. Under Geiger, Firebrand will have expanded resources, wider distribution channels, and a global platform to strengthen its market presence. Geiger has retained 100% of Firebrand's employees.
"By leveraging Geiger's industry prominence, we can amplify our reach and improve value for our customers while maintaining our unwavering commitment to sustainability. Together, we will raise the bar in our industry and make an even more significant impact," said Andrew Bourne, Managing Director of Firebrand Promotions.
Geiger's President & CEO, Jo-an Lantz emphasized that the acquisition in the UK is a strategic move to better serve the increasing demand from Geiger's key clients. Geiger established its United Kingdom presence in 2018, and Firebrand will be their fifth UK acquisition.
"Many of the world's largest brands rely on our services to meet their entire branded apparel and branded merchandise requirements. Our expansive distribution centers and local sales force play an important role in delivering prompt, localized service to customers who operate on a global scale," stated Lantz.Firebrand Promotions will operate as Firebrand Promotions – A Geiger Company as of July 12, 2023.
ABOUT GEIGER
Geiger is the largest privately held and family-owned promotional products distributor in the world. A fifth-generation business headquartered in Lewiston, Maine, Geiger operates from offices throughout the U.S. and Europe and is affiliated with more than 450 independent sales representatives. Geiger is a socially and environmentally conscientious company, providing proactive, comprehensive marketing solutions to their clients.
MEDIA CONTACT
Stephanie Whitman | Geiger
Vice President of Marketing
70 Mt. Hope Ave • Lewiston • Maine • 04240
207.755.2372 E: swhitman@geiger.com
geiger.com