Geiger Hosts First Virtual Galleria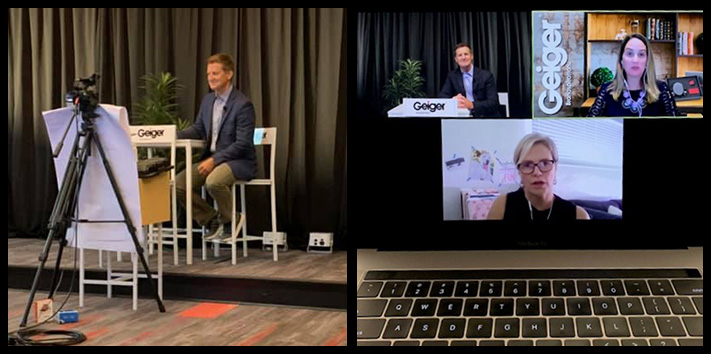 Lewiston, Maine, August 10, 2020: Geiger, a top ten industry distributor, hosted its annual Geiger Galleria education, networking and sales conference on July 28-29, virtually for the first time. The motto for this year's event was Push Harder, Climb Higher, Go Farther. Almost 300 salespeople and associates from around the country and the UK attended each day to learn new sales tactics, network with their peers and hear inspiring and informative keynote speakers. "Whether in person or virtually, you can't fake great content," stated Chris McKee, SVP of Sales and Marketing. "Galleria has always been about bringing together a mix of ideas from a variety of backgrounds from inside and outside of the industry. This year was no different."
The event kicked off with dynamic presentations from Caryn Kopp of Kopp Consulting on getting the first meeting with a client, David Nicholson, President of Polyconcept North America on the supply chain forecast and peer discussions on prospect generation and client presentation tactics. The second day featured Tom Armstrong, retired Chief Merchandising Officer and Senior VP at L.L. Bean presenting on 7 Imperatives for Excellence and Jo-an Lantz, Geiger President and CEO discussing Geiger's financial outlook and the benefits of ambitious goal making, fearless pivots and making wellness a priority. She said, "You must try to triumph, anticipate demand and take advantage of our resources to capitalize on opportunities." A peer discussion on maintaining positivity followed.
The event culminated with awards where the East region claimed the Region of the Year award for exceptional growth, acquisitions and superior service. Bonnie Beltran and Stephanie Haydon received the Gem Award for excellence in marketing, Clay Bouton was honored with the Chairman's Club award for his achievements in corporate programs, and with Lynne Duvivier, Clay Bouton also received the Endeavor Award for superior new sales partner. Alison Frazier, Anu Kelly and Scott Youmans earned the Jewel Award for largest single order. This year two new awards were presented: The Pivot Award for most PPE sales went to Connie Mandula and the Ambassador Award for best representing the Geiger spirit of collaboration, teamwork and support went to Brian and Sonya Beam. The Ambassador Award was particularly meaningful since the winners were nominated and voted on by their peers.
About Geiger
Headquartered in Lewiston, Maine, Geiger is the largest family-owned and managed promotional products distributor in the world. Geiger operates from offices across the US and Europe and is affiliated with over 450 independent sales representatives. Geiger is a socially conscientious company, providing proactive, comprehensive marketing solutions to their clients.