Geiger Acquires Winter People Image Marketing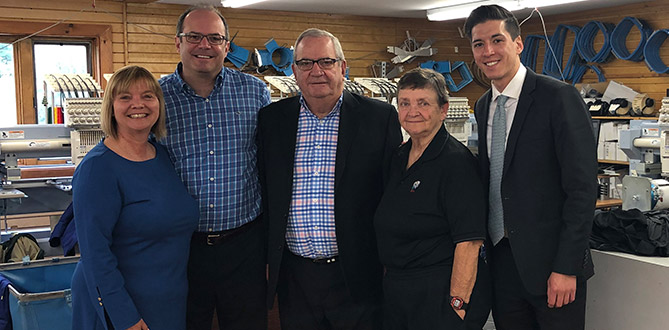 L to R: Jo-an Lantz, Clay Bouton, Dale Bouton – CEO, Patricia Bouton, VP/Treasurer, David Geiger, Esq.
Lewiston, Maine, May 29, 2019: Geiger, a top ten industry distributor, has acquired Winter People Image Marketing, with locations in Freeport and Falmouth, Maine. The company will operate as a Division of Geiger. Clay Bouton, Senior VP of Sales, will remain as a key contact with the company.
A family-owned business since 1987, Winter People Image Marketing has built an outstanding reputation for quality uniform and promotional merchandising programs in the New England region. They also offer apparel decoration for all their programs onsite.
"With over 30 years of success serving the hospitality industry and corporate customers, we are excited to join forces with Geiger to offer a powerful, unified solution to image marketing," shares Clay Bouton. "We look forward to expanding our service capability; leveraging Geiger's strength in corporate programs is sure to help us continue to grow our business."
"We are very pleased to have Clay and the Winter People team join Geiger," states Jo-an Lantz, President & CEO of Geiger. "Their expertise with uniforms and apparel decoration will expand our resources and capabilities and ultimately will enhance our program business."
About Geiger
Headquartered in Lewiston, Maine, Geiger is the largest family-owned and managed promotional products distributor in the world. Geiger operates from offices across the US and Europe and is affiliated with over 450 independent sales representatives. Geiger is a socially conscientious company, providing proactive, comprehensive marketing solutions to their clients.