Gift Green with Modern Sprout® Planters, Grow
Kits & Garden Accessories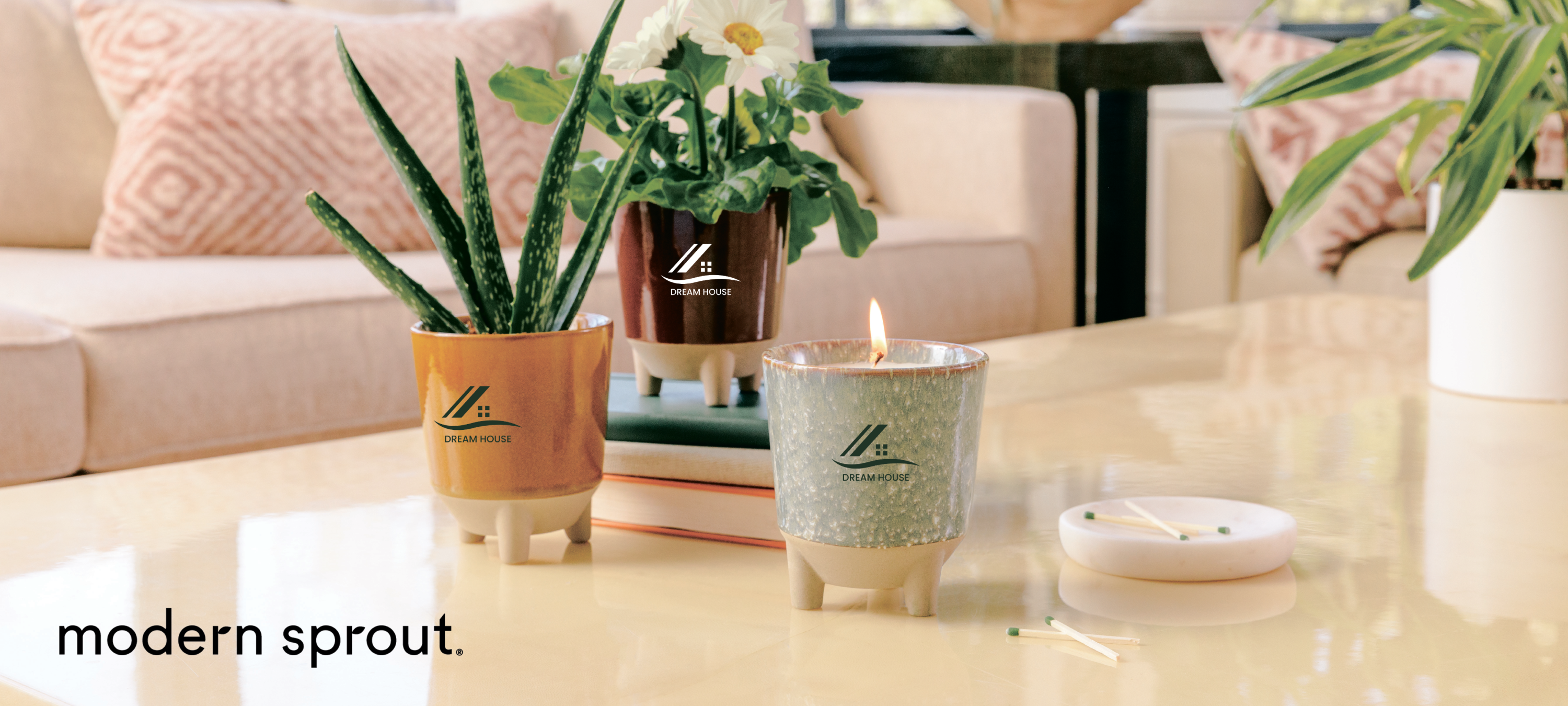 published: July 26, 2023
Plant-related gifts are not only beautiful and eco-friendly, but they also have many benefits for the well-being and productivity of recipients. Whether your employees and clients work from home or in an office, adding a touch of nature can brighten up their spaces and moods. That's why we are excited to introduce you to Modern Sprout®, a brand that specializes in hydroponic planters, herb and flower kits and garden accessories. Modern Sprout makes it easy and fun for recipients to grow their own plants, even if they don't have a green thumb. You can customize their planters and gift sets with your company logo or message, making them perfect for corporate gifting.
Modern Sprout has been featured in "Oprah's Favorite Things," seen on the Today Show, and is sold at over 2,000 independent boutiques and national retailers including Nordstrom, Crate & Barrel, Anthropologie and more! Read on to find out more about their amazing products and how they can help you create a lasting impression with your gift recipients.
Committed to Sustainability
Modern Sprout remains committed to reducing plastic in its products and packaging while building product lines with sustainable and biodegradable materials. Additionally, strategic partnerships with organizations including American Forests and the Pollinator Partnership have empowered them to have a greater impact on restoring biodiversity throughout North America.
Modern Sprout Wholesale Gift Sets & Planters
Summer is the ideal time to sow the seeds of sustainable company culture and let employees know you be-leaf in them. As you consider a token of appreciation, choose one that will make them happy and make the earth happy, too.
MODERN SPROUT® 1-FOR-1 TREE KITS
Call us sappy, but we know it's an all-team effort to reforest the future. Gift tree kits and double your earth-friendly impact. With each Modern Sprout Tree Kit, employees add an oxygen and mood-boosting tree to their homes and a donation is made to plant a tree.
MODERN SPROUT® ENCOURAGEMENT SEED BOMBS
Grab and go, or more like grab and grow! With a Modern Sprout Seed Bomb set, recipients and the earth reap the rewards of organic and/or non-GMO seeds that yield noninvasive wildflowers to welcome pollinators and herbs to boost moods naturally.
MODERN SPROUT® BRIGHT SIDE SEED BALLS
Add some biodiversity to gardens and dinner plates with the Modern Sprout Seed Ball Kit. Grow pollinator friendly wildflowers, sustainably cultivate peace with soothing herbs and add some renewable herbal zing to dishes with non-GMO Modern Sprout seeds.
MODERN SPROUT® TINY TERRACOTTA GROW KIT
The Modern Sprout Tiny Terracotta Grow Kit provides a unique and fun way to recognize an employee milestone, a new job or any celebration. This Modern Sprout grow kit delivers everything they need to nurture and grow a houseplant. So just add water and set in a sunny window and watch it grow!
MODERN SPROUT® GLOW & GROW LIVE WELL GIFT SET
Burn, plant, and grow with the Modern Sprout Glow and Grow gift set! This ceramic candle vessel transforms into a planter after the flame has burned down and includes a complete kit to grow your choice of aloe, basil, daisies, or a spruce tree.
MODERN SPROUT® INDOOR HERB GARDEN KIT
They don't need a green thumb to be able to enjoy growing and cultivating herbs thanks to this hassle-free garden kit that can be enjoyed over and over again. It's easy to see why the Modern Sprout garden jar is one of Oprah's Favorite Things! It's available as a Modern Sprout lavender grow kit or other popular seed varieties including mint, cilantro, and rosemary.
MODERN SPROUT® ROOTED CANDLE
Burn, plant, and grow with the Modern Sprout candle grow kit! This ceramic candle vessel transforms into a planter after the flame has burned down and includes seeds to grow herbs and flowers. Candle and seed packet are packaged inside a beautifully designed box for easy gifting.
By gifting Modern Sprout, not only will you be supporting a sustainable and environmentally responsible brand, but you will also be giving a gift that keeps on giving. Your recipients will love watching their plants grow and thrive, and they will remember your generosity every time they see them.