Creative Business Holiday Cards
that Push the Envelope – Extra Merry Ideas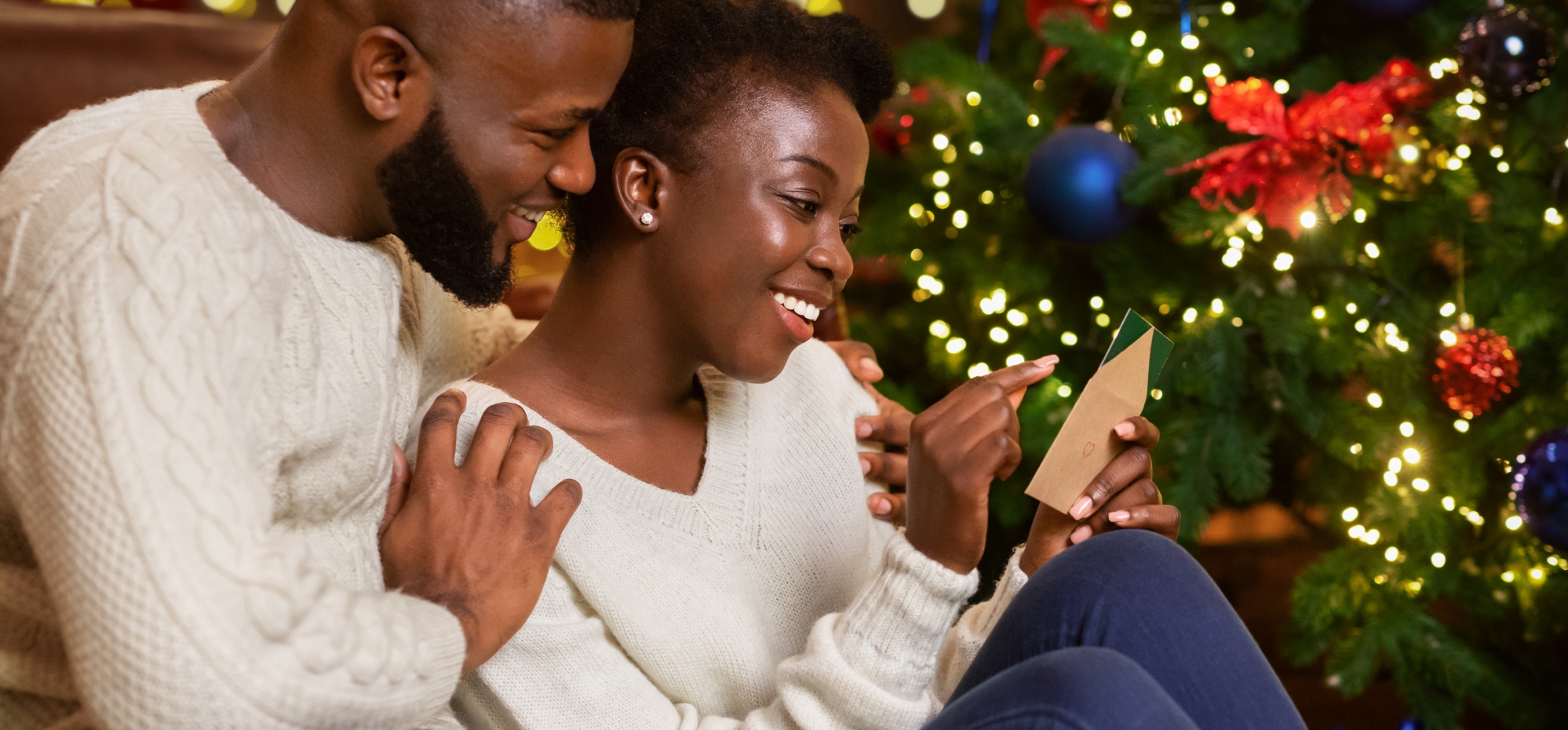 published: September 13, 2022
Everyone loves holiday traditions. Whether relatives come to visit, annual parties are planned, or special gift exchanges are orchestrated, looking forward to those things that always happen around the holidays make the season extra special. As a business or organization, be sure to start some little traditions of your own for employees, partners, customers, or other stakeholders.
Sending gifts from our holiday gift guide or just personalized business Christmas cards can express appreciation and well wishes to those most important to your organization. However, if you're ready to take that little plain greeting card to the next level, you'll love some of these extra fun, elegant or memorable ways to help your employees, customers and stakeholders remember you all year round.
Cheap Business Holiday Cards that Don't Compromise
If you've got a tight holiday budget this year, one excellent way to reduce costs while maximizing the holiday greeting is with lovely inexpensive postcards. Even though these custom business holiday cards are lightweight and require less postage, you can amp up their value with a special coupon code or discount alongside your custom printing and holiday greeting. Our Smart Buy Economy Direct Mail Postcard & Magnet offers fully custom printing on a laminated postcard with a business card magnet sealed into it.
Our Confetti Happy New Year Greeting Card is a standard card printed on black, smooth paper stock with gold and silver foil accents. If you're getting your greetings out a little later than planned, these new year greetings can be the perfect solution, arriving just when your clients are planning their year.
Check out other affordable favorites.
Elegant Holiday Cards for Business
Do you want to communicate a sense of sophistication? Be sure to explore our most elegant custom business Christmas cards. Our beautiful Turquoise Berry Branches Greeting Card features a die-cut window with turquoise holographic foil and silver foil accents on pearlescent paper. Select from many messages and custom print your logo or brand in silver. These lovely cards come with a standard silver-foil lined envelope.
Recipients will also appreciate our Red Joy Wreath Greeting Card with a classic wreath and thoughtful message.
Peruse these other popular elegant options.
Holiday Cards for Employees
In today's day and age when good employees are hard to find and keep, you'll want to do everything you can to make sure they know how much you appreciate them. Although it's a little easier to throw holiday parties or gatherings for employees working from the same location, connecting with those in satellite locations or working remotely can be more of a challenge. Sending a business Christmas card with a logo, along with a personal message if you have time, can help all employees feel like an important part of the team.
Our Gold Snowflakes Wreath Greeting Card pictures a modern wreath made of golden snowflakes and tied up with a metallic red bow. Enclose these customized business Christmas cards with an elegant gold foil lined envelope.
If you're planning on sending along a gift card, take advantage of our Gift Card Box, which is made from high density white poster board material fashioned into an impressive imprinted gift box.
Explore these other great options for employees.
Unique Corporate Holiday Cards
Does your company or organization pride itself on uniqueness? Then be sure your holiday greeting follows that trend. For instance, your employees or customers will remember our Fully Customizable Box with Milk Chocolate Molded Maze, which is tucked inside a fully customizable card, throughout the year. The card comes with a 2.5 ounce rich milk chocolate bar shaped like a maze with a crunchy candy ball ready to find its way to the center.
Another sweet treat is available in our InstaCake Holiday Cake in a Card, which includes all the ingredients required to make a celebration cake with water and a microwave. Perfect for those remote employees and all of your best clients, this gift is sure to be remembered by all.
See some of our other best sellers.
Create Memorable Holiday Cards for Clients, Customers & Employees with Tuck-In Gifts
Are you looking for more business Christmas card ideas? One of the best ideas is to include tuck-in gifts for the holiday season. Although everyone has seen greeting cards with special pockets for gift cards or cash, there are many other small tokens that can be given as well.
These beefed-up cards can be given in addition to other holiday goodies like fun corporate gifts that are passed out in gift bags during holiday parties or luxury holiday gifts for top clients. Even if you have a limited budget for gifts for clients and employees, there are many creative and useful holiday gifts that can still show your appreciation and carry holiday wishes.
If you're like most companies today, you probably also have remote workers you'd like to thank and recognize. We feature a line of easy-to-mail gifts, food and gift baskets, and other gifts that can be mailed and opened during a virtual holiday party.
Even with such festivities, a little tuck-in gift makes creative Christmas cards for business extra special. Our 2023 Standard Press-N-Stick™ Calendar is perfect for just about anyone. These adhesive-backed, peel n stick calendars show off your brand and logo for 14 months in prominent places.
Our Two Pocket Silicone Tech Wallet is also easy to tuck in a card, ready to hold a recipient's credit cards, IDs, or hotel keys. It conveniently attaches to the back of mobile devices with strong adhesive tape to keep these important items safe.
Take a look at these other great tuck-in gifts that are flat, lightweight, virtually unbreakable, and delightful:
What to Write Inside Custom Corporate Holiday Cards
If you'll be sending out a large quantity of personalized holiday cards for business, you may need to pre-print your greeting with a company or organization logo. In this case, here are some tips for sentiments to choose:
Keep it general. With many people celebrating the holidays for different reasons, religious and otherwise, it's important to keep your sentiments more general in nature.
Keep it positive. Everyone likes a positive greeting, highlighting some cheerful reason for the season.
Keep it professional. Remember that your greeting will reflect your company or organization and its mission and character.
If you have a smaller organization, adding a personal note from immediate supervisors, managers or even c-suite executives can be a great touch. Be sure to keep these handwritten notes a bit more on the personal side, citing a particular talent you admire or appreciation for an extra effort made on a project during the year.
Some of the favorite sentiments we offers include: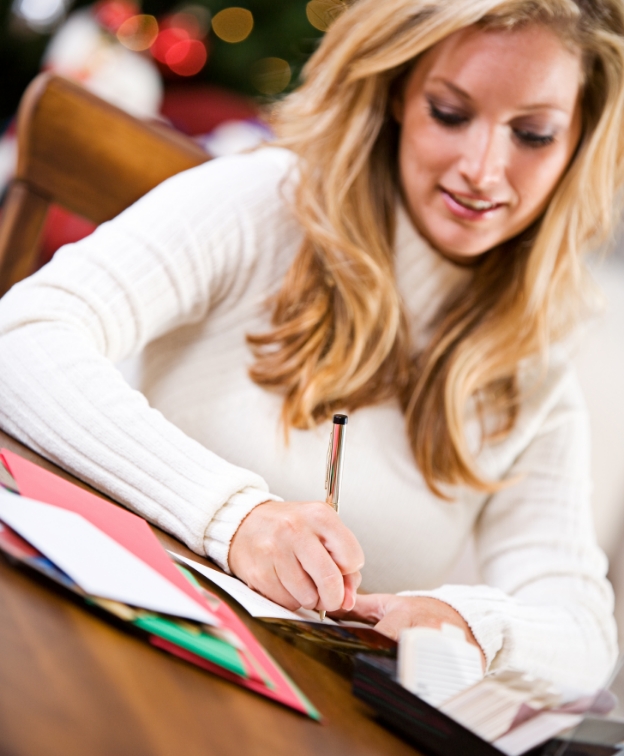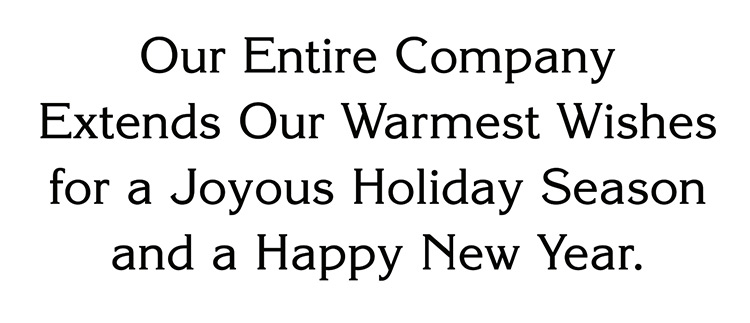 If you're looking for more ideas, check out our article featuring sayings and clipart that are sure to be memorable for employees, customers, and other stakeholders.
When it's time to prepare for the holidays, take the time to think about the best gifts for your clients, employees, community members or other stakeholders. We have everything from holiday party favors to stocking stuffers that will make your celebrations memorable and festive. Whether you're looking for elegant luxury corporate Christmas cards or a simple holiday greeting, we are prepared to help you celebrate the holidays in style with those most important to your organization.