Casual Office Attire: Responding to the Rise of the Casual Office Dress Code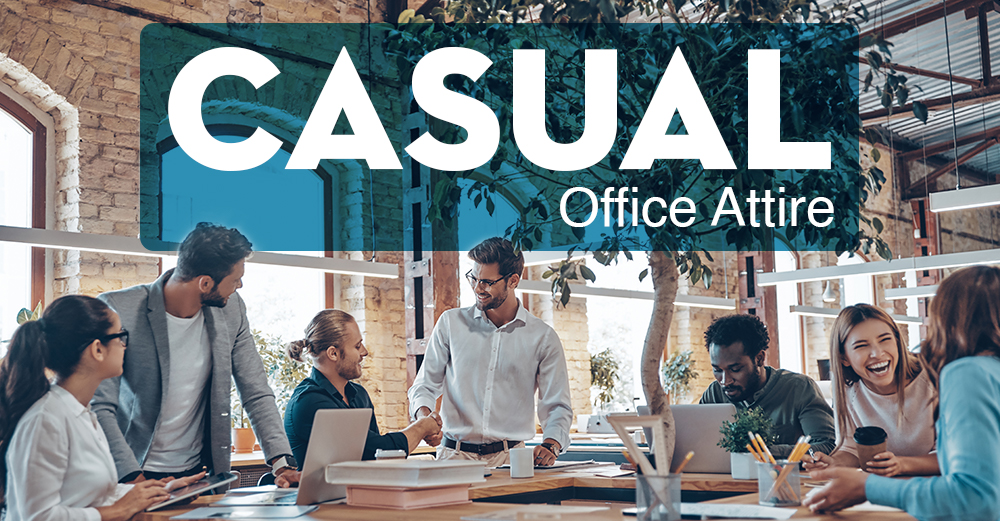 published: August 2, 2021
When the COVID-19 outbreak forced many offices to close in the spring of 2020, 71% of employed adults suddenly found themselves working from home. As this trend has changed the landscape of how Americans work, how we dress has also evolved with the times. Remote work has essentially removed the need to own a separate work wardrobe, and the lines between workwear and casual wear have become increasingly blurred. As a result, more and more companies are embracing a casual dress code for their employees. As casual office attire becomes the rule, rather than the exception, HR managers and marketing managers can embrace this trend by:
Updating their dress code policy to allow for more leniency
Providing employees with casual custom corporate apparel
Read on for more tips on how to redefine the workplace dress code and find ideas on how to use this new trend to your marketing advantage.
How to Communicate the Office Casual Look to Employees
While comfort is a priority, office casual doesn't mean rolling out of bed and showing up to work—it simply means a suit, tie, or heels isn't necessary. No matter how laid-back an office environment is, an employee's wardrobe should always remain professional and appropriate. Communicate workplace expectations to employees with a detailed and comprehensive office or virtual dress code. For example, a smart and casual office look for men and women can include:
Slacks or khakis
Dark jeans
Blazers or sport coats
Short- or long-sleeve button-down shirts or blouses
High-quality t-shirts in solid colors
Fashion scarves
Clean footwear—open-toed shoes and sneakers are typically appropriate
Too-casual looks to avoid include:
Jeans with rips or tears, even if they're intentional
Flip flops
Branded apparel, like sportswear
Hooded sweatshirts
Short skirts or shorts of any kind
Exercise clothing or loungewear
As we redefine office casual, take advantage of the marketing opportunities that exist by giving your employees branded corporate apparel to sport at home and in the office. Some ideas include:
Not only will your employees look and feel comfortable, but the added exposure also gets eyes on your brand.
Casual Attire for Men and Women Fit for a Trade Show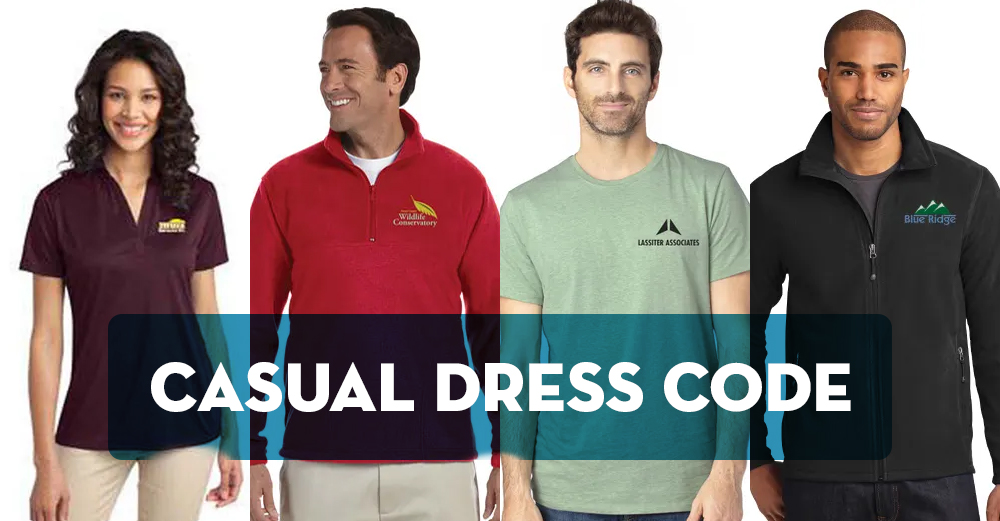 A casual dress code is common at trade shows for both staff and attendees. But no matter how relaxed the environment, how your workers dress reflects your company and values. Worn-out jeans, a hoodie, and a t-shirt better suited for weekend TV binge-fests should never make an appearance, whether your staff is working or attending an event. Providing branded office-casual clothing that looks sharp and represents your company's image can help your colleagues create a professional look. Consider these examples of branded casual dress for men and women for your next trade show or event:
Casual Apparel Gifts and Ideas for Clients
Smart casual office clothes also make great—and savvy—client gifts. Everyone loves a cozy new sweatshirt or fleece, so take advantage of today's dressed-down trend by giving your clients casual branded corporate apparel to wear at home or in the office. Some of our most popular items include our:
For even more ideas, browse our promotional athleisure, outerwear, polos and golf shirts, t-shirts, and sweatshirts to find a perfectly casual client gift for your customers.
Remote work and laid-back wardrobes aren't going anywhere. We have casual clothes for women and men that can help your team dress for success. Whether you're looking for client gifts, casual spring office wear for your next trade show, breezy yet casual office attire for summer functions, or comfortable, professional clothes for entertaining customers, Geiger offers a range of men's and women's casual office wear that's perfect for any occasion.