Motivation by Mail – The Best Home Office Gifts for Remote Employees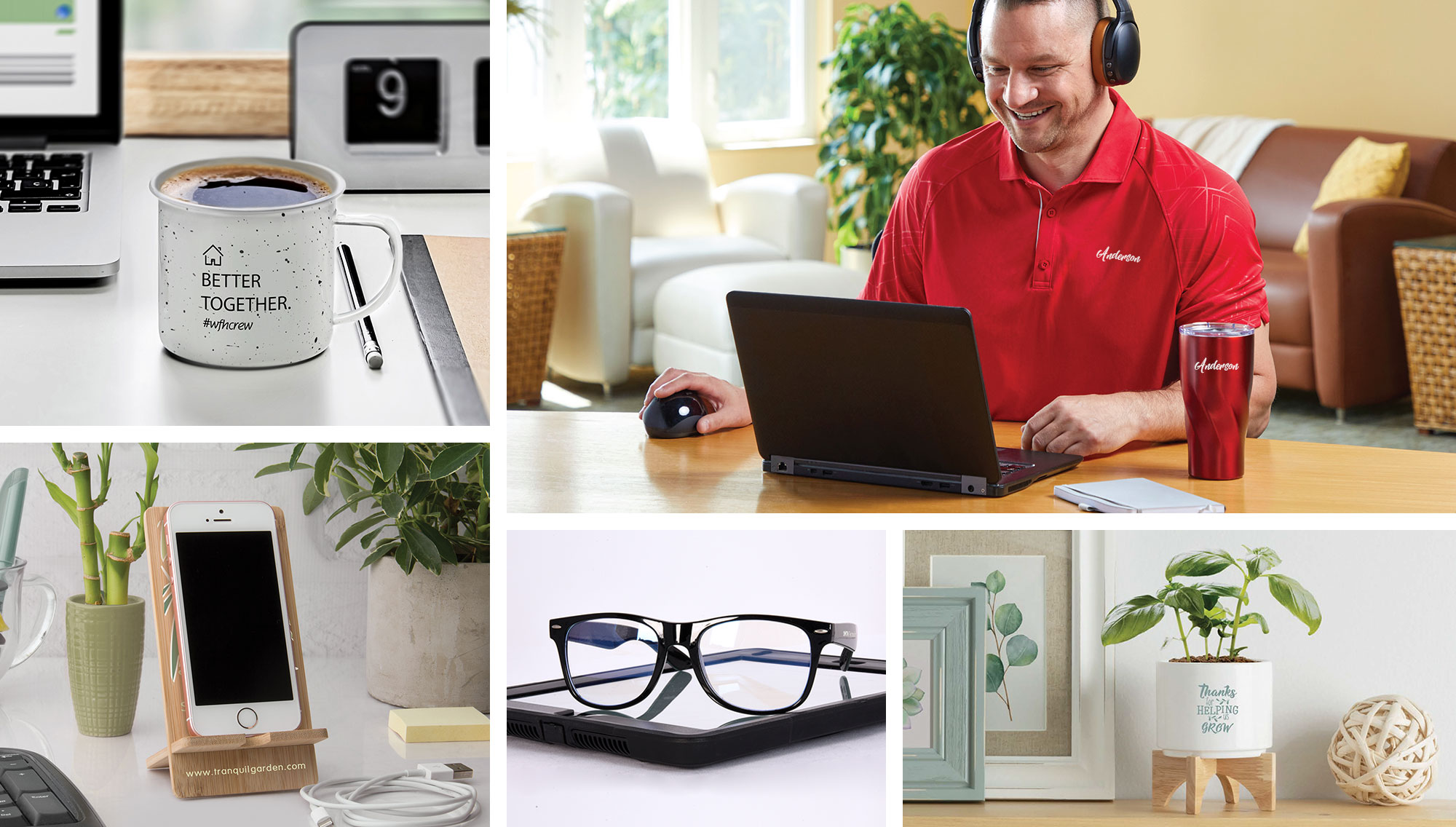 published: March 16, 2021
Although many people have now settled into the new normal of working from home, it's still important to continue to find ways to connect, motivate, and thank employees and clients. Even with Zoom, Microsoft Teams, and Slack, remote employee engagement can still be a challenge as you strive to keep your company culture and team spirt alive. Plus, it's likely that many businesses will extend work from home policies long-term so adapting your employee outreach and wellness programs is critical.
Home office gifts that show your employee appreciation are the perfect way to keep staff connected, inspire creativity, and establish healthy work habits. These gifts can be sent out for any appreciation days, weeks or months on the calendar. But don't wait for a special event to recognize employees, let your staff know you're thinking of them with branded company swag or any of our other unique home office gifts for remote employees any time throughout the year.
Comfortable, Cozy and Stress-Free
Creating an effective at-home work environment for your staff is more than just providing basic tools like a computer and phone – it's also about creating cheerful and enjoyable spaces for your employees to work. So if you're looking for employee appreciation ideas, giveaways like blankets or our other ideas for stress relief gifts below are a great way to keep your staff comfortable and focused.
Candles
Plants
Blankets
Message Board
Aromatherapy/Essential oils
Stress relievers
Apparel
Stay Connected and Secure with Desk & Tech Accessories
From noise canceling headphones to drown out children and pets to blue light blocking glasses for eye protection, promotional tech items can help employees stay connected and enhance their productivity. Any of these work from home essentials are excellent thank you gifts for remote employees and will surely put a smile on the face of each staff member.
Phone & tablet stands
Blue light blockers
Webcam covers
Rocketbook notebooks
Bluetooth speakers
Mouse pads
Noise canceling headphones
Qi chargers
Desk gift sets
Stay Fueled and Hydrated with Custom Drinkware and Snacks
Some of the best gifts for remote workers are the ones that quench their thirst or satisfy their hunger. With every sip, a branded coffee mug or water bottle will remind employees that they are part of the team, and snack gifts will keep their brains operating at a high level.
Coffee mugs
Travel mugs & tumblers
Coasters
Easy to mail snacks – Meeting in a Box
Water bottles
Encourage Well-Being and Fitness
If you're wondering how to motivate and energize remote employees, encouraging a fitness routine might be the right answer. At-home and outdoor fitness items like these are the perfect way to encourage employees to stay active and healthy.
Yoga mat
Stretch bands
Pedometer
PPE such as masks, sanitizer and kits
Work from Home Kits to Really Impress
Maybe you are looking for several gift ideas for remote employees. If that's the case, a work from home kit makes it easy to get multiple promo items in your employees' hands at once. Any of these kits are sure to deliver that wow factor.
Work from Home Essentials Plus Kit
Essential Perfect Tech Set
Work from Home 4 Pack
Virtual Happy Hour & Family Entertainment
At the end of a workday or during breaks, remote employees often look for ways to unwind, de-stress or spend time with family. That means gift ideas for remote employees don't have to be dull. Give them a way to unwind with any of these entertaining staff appreciation gift ideas.
Games and playing cards
Coloring books
Baking and kitchen accessories
Wine glasses & tumblers
Now that you've scanned through the best gifts for remote workers and have your items selected, it's time to ship. We can help make the process simple. By using our drop shipping service, you can ship gifts directly to individual addresses. Pair that with our kitting services, allowing you to package the items in either a box or bag that's also part of the gift, and you'll quickly have your customized gifts on the doorstep of every employee, even if they're spread across the U.S.