Geiger Announces 2021 President's Award Winners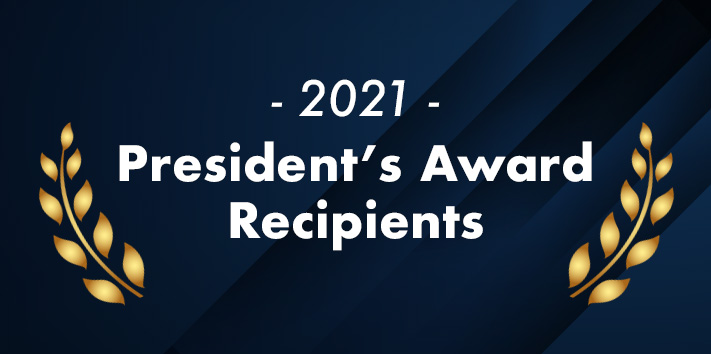 Lewiston, Maine, May 5, 2021: Top 10 distributor Geiger, the nation's largest privately held promotional products distributor, recently presented its annual President's Awards at the annual company-wide virtual fireside chat. This award is the highest recognition that may be conferred on associates at Geiger and this year they were presented to four individuals and five teams.
The President's Awards are given based on five areas of accomplishment: business achievement, community service, customer satisfaction, leadership, and process improvement. The President's Award recipients are nominated for the award by their peers and chosen by the President of the Executive Team for practicing the principles of Continuous Improvement, their willingness to embrace fresh and innovative ways to add value to our customers, and for positively contributing to the company's business.
The individuals who received the President's Award include: Alicia Doyle, Nancy Lavoie, Frank Pagano, and Chris Smith.
Geiger President and CEO, Jo-an Lantz states, "Herb and Linda Levy, along with their family, built a firm known for excellence and customer experience. In addition, as a family-owned business, we share the same values and culture. Five Thousand Forms, Give Me Five, and Geiger are a perfect match."
The team recipients include: the Distribution and Decoration Center Team in Lewiston, Maine (Crystal Beaucage, Tina Beaucage, Tricia Bell, Tami Bilodeau, Ryan Bissonette, Garrett Curit, Gerry Gauthier, Ryan Getchell, Lisa Hill, Bill Hoffman, Kathy Hooks, Lee Jones, Chris Knowlton, Pete Letourneau, Tyler MacNeill, James Mathieu, Keith Mosher, Amy Pacanza-Rogers, John Priest, Sheri Ridgeway, and Sandy Russell), the Distribution and Decoration Center Team in the UK (Barbara Almeida, Kim Barham, Chloe Churchward, Matthew Dolling, Andy Friend, Rory Gleeson, Agne Grazulyte, Ron Hodges, Izabella Laszlo, Billy Lovitt, Debbie Rafferty, Lee Smith, Patrick Sylvester, Daniel Webb, and Samuel Zend), the Farmers' Almanac Team (Sandi Duncan, Susan Higgins, Frank Pagano, Patrick Travers, and Allison Vallin), and the IT Help Desk and Network Team (Gloria Arita, Alain Laverdure, Brian Mann, Bryon Newcomb, Jennifer Sewell, and Mike St. Germain).
These awards have extra meaning this year. Due to their tireless efforts and willingness to do whatever has been necessary, Geiger associates have made it possible to carry on doing business during the pandemic. We continued processing orders and kitting projects, which helped many other companies stay connected to their valuable associates and customers. The ability of so many associates to adapt, either to working from home or to CDC safety guidelines in our Distribution and Decoration Centers has been amazing.
About Geiger
Headquartered in Lewiston, Maine, Geiger is the largest family-owned and managed promotional products distributor in the world. Geiger operates from offices across the US and Europe and is affiliated with over 450 independent sales representatives. Geiger is a socially conscientious company, providing proactive, comprehensive marketing solutions to their clients.