Geiger Welcomes 400 to Galleria in Charlotte, NC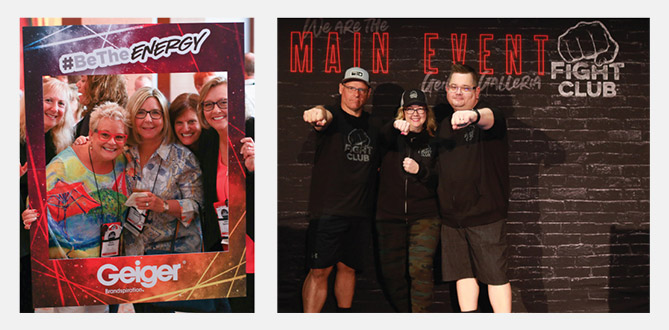 Lewiston, Maine, August 12, 2019: Geiger, a top ten industry distributor, hosted its annual Geiger Galleria education, networking and sales conference and trade show in Charlotte, North Carolina on July 25-28. The event drew 400 salespeople, suppliers and associates from around the country and the UK to learn new sales tactics, network with their peers.
The event kicked off with a motivational presentation from Jo-an Lantz, CEO and President of Geiger, on the importance of developing a growth mindset. She said, "'I can't, I won't, I don't' isn't part of our vernacular. To continue our decades of growth and success we and our clients must evolve from consultative selling, to active engagement and live experiences. We must have a growth mindset and say to ourselves, every day…'I can, I will, I'll try'." Throughout the rest of the day, attendees chose educational seminars on a variety of topics such as global shipping, social media, Geiger's ecommerce tools, SAGE and ESP. The evening finished with a dazzling glow light dance performance and party.
In addition to a tradeshow featuring 200 of their most trusted suppliers, Geiger hosted a showcase of the newest products in the promotional products industry and an informational display spotlighting product from suppliers where a portion of the proceeds go to charitable organizations.
"When you have a group of people that love to work together, learn together and play together, it's really special," says Chris McKee, SVP of Sales and Marketing. "Our team of sales partners, associates, and production partners are committed to helping each other grow their business. There is no doubt they will be successful."
The event ended with an awards ceremony and dinner where the Mid-South region claimed the Region of the Year award for exceptional growth and superior service. Angela Morris received the Edge Award for excellence in marketing technology and Gail Goldstein was presented the Chairman's Club award for her achievements in corporate programs. The Spirit Award for outstanding sales partners went to James and Jay Shaw and Connie Mandula was honored with the Endeavor Award for superior new sales partner.
About Geiger
Headquartered in Lewiston, Maine, Geiger is the largest family-owned and managed promotional products distributor in the world. Geiger operates from offices across the US and Europe and is affiliated with over 450 independent sales representatives. Geiger is a socially conscientious company, providing proactive, comprehensive marketing solutions to their clients.